Gourmet Easter chocolates and more
Whether you are assembling an Easter basket as a special hostess gift or looking for decadent treats to serve your family and friends at Easter, the following gourmet chocolates are sure to please. Though your kids will eagerly gobble them up without thinking twice, the adults in the family will nibble and take notice of their exquisiteness.
Dove Chocolate Limited Edition Easter Chocolates
No traditional Easter basket is complete without the indulgent, creamy taste of a high quality chocolate bunny or egg. Dove is celebrating Easter this year with their 6-ounce Silky Smooth Solid Dark Chocolate Bunny, 6-ounce Silky Smooth Milk Chocolate Egg, and of course those scrumptious little Silky Smooth Milk and Dark Chocolate Eggs (packaged in 9.5-ounce bags). Now available in stores nationwide, products sell for the suggested retail prices of $4.39 for the 6-ounce bunnies and eggs and $3.29 for a bag of mini-eggs.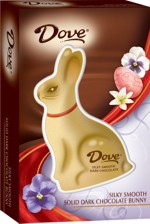 Divine Chocolate Mini Eggs
If you are searching for chocolate goodies that are also eco-friendly, you'll love Divine Chocolates. Divine is a pioneering farmer-owned Fair Trade chocolate brand that is offering bite-sized Easter treats. Divine Chocolate Mini Eggs, made with only the finest Fair Trade cocoa from the farmers of Kuapa Kokoo in Ghana, are available in dark chocolate and milk chocolate and come wrapped in gold foil decorated with traditional West African Adinkra symbols. Also, Divine made an eco-conscious choice to develop an earth-friendly, recyclable package for this Easter holiday instead of going the plastic route. The Divine mini eggs are available online through Serrv.org and can be found at Borders Book Stores and Whole Foods nationwide and retail for $4.99 per 3.5-ounce bag (about 22 eggs).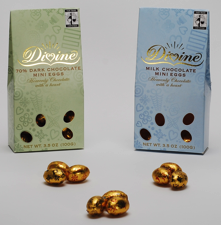 Chef Thomas Keller and Bouchon Bakery Easter treats
If you happen to be in close proximity of Yountville, CA, Las Vegas, NV or New York, NY, you can take advantage of renowned Chef Thomas Keller's gourmet Easter goodies. Not only are Chef Keller's sweet creations knee-weakening good, they are so carefully crafted, at first look, they seem too beautiful to eat. From Dark or Milk Chocolate Bunny Rabbits (in small and large sizes) and Easter Oval Peanut Butter Cookies to Spring Time Linzer Cookies and Peep Lollipops, these Bouchon Bakery items will be a mouthwateringly memorable high point of your Easter this year. You can also visit BouchonBakery.com and inquire about prices and having these Easter treats shipped to your door
.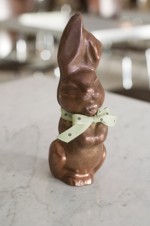 Ghirardelli Chocolate and Plush Bunny Easter Gift
Two gifts in one, this decorative Easter bag contains a small stuffed Easter Bunny and 12 pieces of Ghirardelli's best selling chocolate flavors: Milk Chocolate with Caramel filling, Dark Chocolate with Mint filling and Milk Chocolate with Peanut Butter filling. Anything by Ghirardelli is delish, and with a plush bunny, this Easter gift is irresistible. Visit Ghirardelli.com to find a Ghirardelli shop near you or order online. Easter Gift retails for $14
.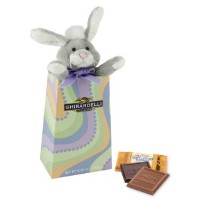 Williams - Sonoma Easter Nest with Truffle-filled Eggs
Decor and decadence meet in this beautiful spring nest of chocolates. The lovely creation spans 11-inches in diameter and is crafted from California-grown oak moss, lavender, oak leaves, yellow feverfew and dried miniature roses, and filled with 24 "robins' eggs" - actually chocolate truffles cloaked in white chocolate and finished with a speckled candy shell. Use the nest as the centerpiece of a table or buffet...but it probably won't stay full of eggs for very long. Visit Williams-Sonoma.com to order online, retail is $39.95. Look for other gourmet Easter goodies in your local bakeries and stores, and regardless of the ones you choose, have a happy and delicious Easter.
---
More From SheKnows Explorer
---
---