Recipe-free cooking: How to cook without measuring
What is your cooking style? Do you strictly follow recipes, measuring each ingredient precisely, or are you more inclined to wing it and create signature dishes?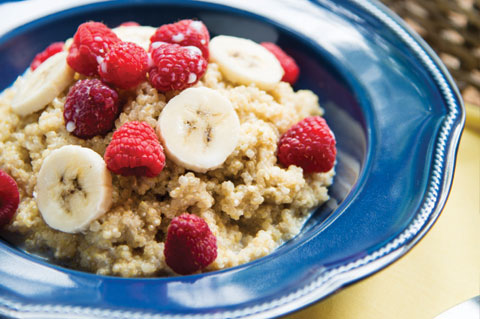 Regardless of your cooking yen, Jean Johnson's Cooking Beyond Measure is an inspirational cookbook that will give the recipe followers a new — less structured — way to view cooking and the wing it home chefs a cookbook that perfectly fits their creative style.
How to eat well without formal recipes
Cooking Beyond Measure doesn't have ingredient lists with amounts and quantities, but instead provides short paragraphs of ingredients accompanied by beautiful photos and cooking notes that give you the freedom to create delicious dishes that you can truly call your own. The recipe ideas in Johnson's innovative cookbook are influenced by her Norwegian heritage as well as cuisines of other cultures and even celebrity chefs. Johnson wants you to lighten up and have fun with your meals, and in doing so, you will find a more relaxed approach to daily cooking that you actually anticipate. Best yet, all of the cookbook's recipes are made with wholesome, fresh foods, proving that healthy meals really can be convenient and free of packaged goods.
Recipe-free recipes
Quinoa with raspberries and cashews
Ingredients:
Quinoa
Sprouted wheat berries
Oat bran
Raspberries
Soy milk
Raw cashews (optional)
Nutmeg (optional)
Directions:
Spoon leftover quinoa, sprouted wheat berries and oat bran into cereal bowls.
Top with fresh raspberries, pour on unsweetened soy milk and garnish with raw cashews and a pinch of nutmeg.
Cooking notes: Cook quinoa according to package directions and serve it for dinner one night and have the leftovers for breakfast the next day. Raspberries and cashews are the ultimate in fast fruit since there is no stopping off at the chopping board.
About sprouting wheat berries: Sprouting grains brings out even more of their nutritional value. To sprout wheat berries, soak a small handful in water in a sprouting jar or wide-mouth quart jar with a circle of screen cut to fit the top and a canning band to hold the screen in place. Rinse them a couple of times a day until the grains start to sprout. In just a few days, you'll be able to use them in recipes.
Cheesy corn bake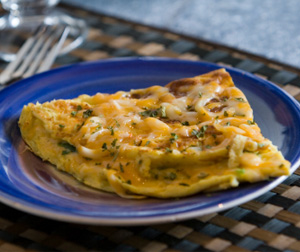 Ingredients:
Zucchini
Corn from the cob
Eggs
Milk
Cornmeal masa
Turmeric
Salt
Chili powder
Directions:
Grate zucchini and cut corn from the cob.
Fold vegetables into some eggs whisked with milk, cornmeal masa, turmeric, salt and chili powder.
Bake in a medium oven (about 350 degrees F) in an oiled dish until set.
Garnish with sharp cheddar and serve with roasted Anaheim peppers.
Cooking notes: With eggs, use just a spoonful of milk or water to help them blend when you beat them with a whisk or fork. Then incorporate a little cornmeal at a time until you have something close to a medium gravy.
Hot and sour shrimp soup, Thai-style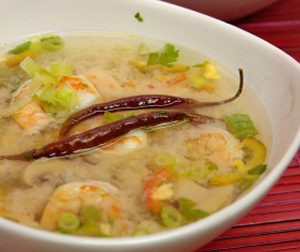 Ingredients:
Shells from uncooked prawns
Garlic
Lemon grass
Woody ginger
Red onion
Tomatoes
Mushrooms
Shrimp
Lime leaf
Thai chili, pounded
Fresh cilantro
Lime juice
Directions:
Boil shells from uncooked prawns in a pot of water and strain, reserving liquid.
Pour liquid back into pot and add garlic, lemon grass, woody ginger (galangal) and red onion and keep the boil going.
Add tomatoes and mushrooms.
After 10 minutes or so, cut the heat and put your shrimp in with some lime leaf and a pounded Thai chili.
Just before serving, add a chop of fresh cilantro and lime juice.
And yes, you sort of pick your way through the pieces of lemon grass, woody ginger and lime leaf as you eat. It's half the fun!
Cooking notes: You can find lemon grass, woody ginger and lime leaf in the Asian section of the supermarket or at Asian markets. You can omit them, if unavailable.
Spring salad on a theme of radishes and jicama
Ingredients:
Radishes
Jicama, peeled
Spaghetti squash, cooked
Spring onions, chopped
Olive oil
Red wine vinegar
Parsley
Chili flakes
Soynuts
Parmesan cheese
Directions:
Grate radishes and peeled jicama into some fluffed and cooked spaghetti squash and chopped spring onions.
Dress with olive oil and red wine vinegar.
To please the tepid and intrepid, garnish with parsley, chili flakes, soynuts and Parmesan cheese.
Brie and coconut
Ingredients:
Brie
Unsweetened coconut, toasted
Directions:
Serve a wedge of Brie on a bed of toasted unsweetened coconut.
Cooking notes: Unsweetened coconut is available in bulk bins at whole foods stores and many mainstream grocers. Toast it on medium heat in a heavy pan. A few minutes of careful stirring will net fragrant, tawny shreds that are so seductive people won't miss the sugar typically associated with shredded coconut.
More easy recipe ideas
Fried ham and cheese rolls
3 Easy no-heat no-fuss lunch ideas
5 Fun and unique sandwich ideas