Homemade yeast doughnuts with fresh fruit glaze
One sure way to get my kids moving on a Saturday morning is telling them we can stop for donuts on the way to wherever. (Or doughnuts, whatever you want to call them.) We have the doughnut chains in our area of course, and they are fine, really, even really good. But the smaller, mom-and-pop doughnut shops are where the real joy lives, in yeast doughnuts made in smaller batches by real hands and in creative flavor combinations.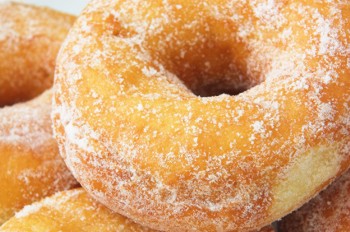 Make bakery-caliber doughnuts at home
Lacking such a local gem, you can make delicious doughnuts at home. Admittedly, it's a bit more work than driving up and ordering a standard dozen, but they are oh, so good. And with fresh fruit glazes in bright (and natural colors), they are perfect for springtime.
Homemade doughnut recipes
Yeast Doughnuts
Ingredients: 3-1/2 cups all-purpose flour 2 packages active dry yeast 3/4 cup milk 3/4 cup sugar 1/4 cup butter 1/2 teaspoon salt 2 eggs Oil for frying Powdered sugar for dusting, or glaze Directions: 1. In a large bowl, combine 1-3/4 cups flour with yeast. In a saucepan, heat milk, sugar, butter and salt over low heat until butter melts. Stir milk mixture into flour along with eggs. Beat with a heavy-duty electric mixer on low for 30 seconds, just to combine. Increase speed to high for 3 minutes. 2. Add the remaining flour, a little at a time, stirring with a spoon. The dough will be firm. Knead dough on lightly-floured work surface until smooth, 4 to 5 minutes. Transfer to an oiled bowl, cover and let dough rise until doubled in size, about 1 hour. 3. Punch down dough and turn dough out onto floured surface. Knead lightly, then roll out to 1/2-inch thickness. Cut out doughnuts with a floured doughnut cutter. Transfer the cut doughnuts to baking sheets, cover and let rise 45 minutes. 4. Heat oil in a wide, deep frying pan to 360 degrees F. Fry doughnuts in batches, turning several times (using a couple of chopsticks), until golden all over. Remove doughnuts to a rack to drain, and let cool. Dredge in confectioners' sugar or drip in fresh fruit glaze.
Fresh Strawberry Glaze
You may want to increase the cornstarch, depending on the relative moisture of the fresh fruit. Ingredients: 3/4 cup strawberry nectar 1 tablespoon cornstarch 3 tablespoons sugar 2 tablespoons crushed strawberries Directions: In a microwave safe bowl, whisk together the nectar and cornstarch. Stir in the sugar and fresh fruit. Microwave on high for 1-1/2 minutes, stir, then microwave 30 seconds to 1 minute more. Cool a bit before dipping fresh doughnuts in the glaze. Note: You can also make this glaze with peach nectar and fresh peaches, blueberry juice (if you can find it, otherwise apple juice) and fresh blueberries, mango nectar and fresh mangoes, and lots of other fruits.
Fresh Meyer Lemon Glaze
Ingredients: 2 cups powdered sugar 2 tablespoons grated lemon peel 1/4 cup butter, melted 1/4 cup fresh lemon juice Directions: Whisk together all ingredients, then drizzle over the fresh doughnuts. This glaze can also be made with blood oranges, but cut down the sugar a little.