The eco-friendly diet: Tips for responsible eating
As parents, we set the tone for our respective households, making it essential that we lead by example. Though the eco-education movement in schools may compel some of our kids to come home and suggest the family start living more green, chances are we are the ones who will have to get the ball rolling. Helen Coronato, author of Eco-Friendly Families has just the guide to help us do just that - starting in the kitchen.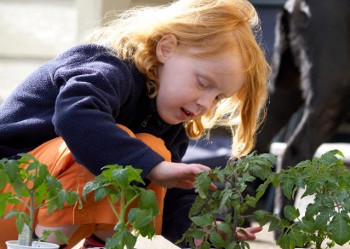 Greener living can start in the kitchen
Coronato, co-leader of the Warren County, New Jersey, chapter of the Holistic Moms Network, believes going green can be a fun-filled family affair. By teaching our children from an early age that eco-friendly practices are essential in the future of our resources and quality of life, we raise them to be responsible adults who are "personal advocates of the Earth." One area to start teaching our kids about green living is the kitchen. Coronato writes, "One of the most personally beneficial ways to live in harmony with Earth is to eat more responsibly." A result of the irresponsibility - which includes convenience food, junk food, and supersized fast food - is a corpulent country of overweight people who are experiencing health problems because of it - this includes our children.
An eco-diet is healthy
Coronato says that because of the tasty plethora of vitamins, minerals, antioxidants and other essential nutrients in eco-friendly foods,  approaching our diets from a greener perspective has many health benefits, too. Eating well helps us look and feel good, gives us more energy and helps us sleep better at night. Additionally, it keeps us healthy, at a healthy weight, and at less risk for disease, injury and other health issues.
Tips for eco-friendly eating
In the most basic sense, eco-friendly eating is relying on nature's harvest the way nature intended. Here are Coronato's tips.
1. Eat seasonally and locally
By choosing fruits and vegetables and even fish that is in season, we are following nature's lead as well as reducing the eco-costs of forced harvests and imported foods. It also helps support our local farmers.

2. Eat whole foods
Coronato recommends filling the majority of our plate with whole grains and vegetables - minimizing our intake of processed foods.
3. Eat organic
A healthy diet begins with healthy food - and Coronato believes organic foods are healthy foods. "Organic food is fresher, more flavorful and better for Earth," she writes in the chapter titled Table Manners: Eating by Example. And it is also better for our health, reducing our exposure to chemicals and toxins.
4. Eliminate unhealthy fats
When we start to rely less on packaged foods, we will automatically reduce the amount of saturated and trans fats in our families' diets. Both of these types of fats have been associated with heart disease and other medical conditions.
5. Avoid artificial coloring
Particularly important for families with kids, Coronato warns parents to avoid foods and drinks with artificial coloring or dyes. Since dyes are found in a broad range of items our kids eat - from candy and baked goods to packaged foods and beverages - this one small step can reduce the risk of our children having health issues associated with artificial coloring. Read labels and teach your children to read labels, too.
6. Visit your local health food store
According to Coronato, health food stores are geared toward helping families make better choices for better health (they are no longer just for "health nuts"). Embarking on a more eco-friendly lifestyle can be overwhelming, particularly when we face the aisles and shelves of unfamiliar brands and foods. The staff at most health food stores can help us navigate the offerings and tailor our purchases with our family's well-being at heart.
7. Participate in a Community Supported Garden (CSG)
If you live near a CSG, contact the director and enroll. A CSG can teach our families about sustainable farming practices while bringing home produce that we take a part in growing. This not only allows our families to eat organically, it also cuts down on packaging and other eco-costs of store-bought fruits and vegetables. Another option is to grow a family garden in the backyard.
8. Plan your meals
To reduce emissions and save on gas used to frequent the grocery store many times a week, Coronato says making a detailed grocery list and spending one morning a week shopping is not only good for the environment, it also helps us manage our time better - just think of the time we gain by only driving to get groceries once, instead of a few times, each week. This also gives us the opportunity to plan meals for the week so we aren't guessing when dinnertime arrives.

9. Eat a rainbow
"You can spotlight a color each week and try new foods that fit your focus," suggests Coronato, who rallies her children to pick out that week's particular color at the produce farm and grocery store. She suggests making our meals colorful and inviting, using the rule Seven days of the week = Seven colors of the rainbow. This is a fun, educational and healthy way to feed our families.
10. Let your kids help
One of the best ways to teach our kids about eating more eco-friendly is by letting them help prepare the meals. We can take the opportunity to not only teach them about responsible eating, but also how to cook, which will help them grow up to be adults who don't rely on junk food and actually take an appreciation in homemade meals.