St Patricks Day desserts to make with the kids
Looking for a kid-friendly way to commemorate St Patrick's Day? Bring your kids into the kitchen and have them help you make and bake these yummy green-themed St Patrick's Day desserts.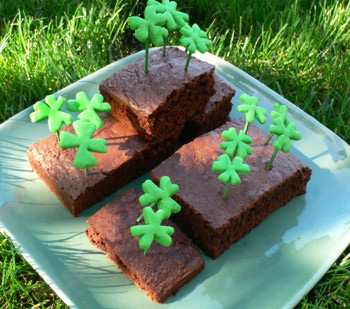 Yummy Fun
What do you get when you partner a creative energetic cookbook author with the well-known company Duncan Hines (whose name is synonymous with dessert)? You get these delicious, whimsical St Patrick's Day recipes. The cookbook author? It's Clare Crespo, author of the tasty cookbooks The Secret Life of Food and Hey There Cupcake! Crespo is admittedly obsessed with inspiring folks to be creative in their kitchen and shares her passion with others in her recently released The Yummyfun Kooking DVD Series (possibly the most imaginative cooking show ever!) and her colorful interactive site YummyFun.com. Crespo, with her signature style of wild cooking, has also been featured on Good Morning America, The Today Show, Style Network's You're Invited, and many shows on The Food Network.
St Patrick's Day dessert recipes
The following recipes are Crespo's creations, using Duncan Hines products - which make these desserts perfect for a mom and kiddo collaboration in the kitchen for St Patrick's Day.
Clover Patch Brownies
Makes 16 brownies
Marzipan and fondant are sweet confections that have a consistency similar to play-doh. They both take well to color and can be molded into any desired shape. For this recipe, you make St Patrick's Day clovers to decorate the brownies. Be realistic and make a lot more three-leaf clovers than four-leaf clovers - let the four-leaf clovers be a special surprise for a lucky dessert eater.
Ingredients
1 box Duncan Hines Family Style Chewy Fudge Brownie Mix
Box of pre-made marzipan or fondant (in the baking aisle or specialty craft stores)
Green food coloring Green toothpicks
Directions
Bake brownies according to instructions on box. Remove from oven and let cool.
Cut brownies into squares.
Meanwhile, knead green food coloring into marzipan or fondant until desired shade of green is achieved. Form small (1-inch) 3-leaf and 4-leaf clover shapes out of fondant or marzipan.
Stick clover shapes on top of green toothpicks. Insert little bunches of clovers onto each brownie. Serve to your lucky guests!
Four-Leaf Clover Cupcakes

Makes 6 cupcakes
Create lucky four-leaf clover cupcakes with this St Patrick's Day dessert recipe. It's quick, easy and impressive. Your kids will be quite proud of themselves upon completion.
Ingredients
1 box Duncan Hines Moist Deluxe Classic White Cake Mix
1 tub Duncan Hines Creamy Home-Style Classic Vanilla Frosting
Green food coloring
Heart-shaped cupcake pan or regular cupcake pan and tinfoil
Box of premade fondant or green thick "licorice" candy
Directions
If using a metal cupcake pan, place a white or green cupcake liner in each hole. Roll up 1-inch balls of tin foil and place one in each hole between the liner and pan (this will make a heart shaped cupcake).
Make batter according to instructions on the box. Pour batter into cupcake pans, about 3/4 full. Bake according to directions on box. Remove cupcakes from oven and let cool. Meanwhile, knead a few drops of food coloring into the fondant and roll out six (5-inch long, 1-inch in diameter) rolls. Add a few drops of green food coloring to the frosting and mix well. Frosting should match color of fondant.
Frost cupcakes. Place four heart-shaped cupcakes together on a serving tray, points of the heart directed inwards towards a center. Place a fondant "stem" at bottom of your "clover".
Lucky Horseshoe Cupcakes

Makes 24 Horseshoes
Ingredients
1 box Duncan Hines Moist Deluxe Classic Chocolate Cake Mix
1 tub Duncan Hines Creamy Home-Style Cream Cheese Frosting
Pastry bag with circle tip filled with Duncan Hines Creamy Home-Style Classic Chocolate frosting
Dark brown mini jelly beans
Tin foil, non toxic marker, and sheet of paper
Directions
Prepare lucky "fortunes" by cutting paper into 24 (1x2-inch) strips. Using a water based (non-toxic) marker, write lucky messages on each strip. Wrap these fortunes in tin foil, making sure its sealed well.
Line cupcakes with cupcake liners (preferably gold foil). Make batter according to instructions on box. Fill cupcake liners 1/2 full. Place a fortune on batter and cover with a bit more batter to 3/4 full. Bake according to directions on box.
Remove from oven and let cool. Frost cupcakes with icing. Carefully pipe a horseshoe shape on top of each cupcake. Stud horseshoe with jelly beans to resemble horseshoe nails. After dinner, dig in and make sure you tell unsuspecting St Patrick's Day guests or family members about their lucky fortunes.
Recipes Copyright Clare Crespo/Yummyfun Productions 2009