Cool key limes and key lime recipes
Quick! When I say "key lime" what do you think of? Pie? Yup? Florida Keys? Yup? More pie? Sure.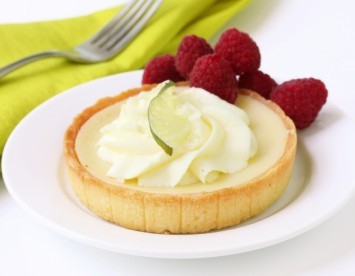 Enjoy key limes in pie and more
Key limes have enjoyed quite a bit of popularity in recent years. They are becoming more available in more parts of the country and more key lime recipes are being developed. As absolutely yummy as key lime pie is, it's not the only way to enjoy key limes.
Key limes are not the usual lime
Contrary to the beliefs of some, there are differences between regular limes and key limes. While common limes (Persian limes) are deep green when ripe, key limes are bright yellow-green. The key lime is also much smaller, tends to have a thinner skin, more seeds, more acid and a stronger smell. Key limes are also more tart than common limes. The fruit originated in southeast Asia before making its way west, finally to the Caribbean and to the sub-tropical and tropical Americas. Key limes are so named because of their association with the Florida Keys, and what better way to keep in touch with the tropics on a cold, snowy winter's day in New England than to use some fresh key limes.
Key limes shine in sweet and savory fare
Key limes shine in desserts: key lime pie, of course, and cheesecake, pound cake, sorbet, and cookies, for example. Key limes can be used in place of regular limes (and sometimes lemons) in many applications, for a slightly different, more tart taste. Try key limes squeezed over fresh fish or seafood, in guacamole, in mojitos and margaritas, or substituted for lemons in a meringue pie. The key lime recipe options are overwhelming!
Key lime recipes
Key Lime Curd
Makes about 3/4 cup Wonderful on biscuits, between a couple of sugar cookies, as a filling for a white cake, and any other way your sweet tooth and heart desire. Ingredients: 6 tablespoons unsalted butter 3 eggs 1/2 cup sugar 2/3 cup fresh key lime juice 1 teaspoon key lime zest Directions: In a medium saucepan over low heat, melt the butter. Whisk in the eggs and sugar, then the lime juice and lime zest. Continue to whisk over low heat until it starts to thicken, about 10 minutes. Cool completely. Scrape into a container with a tight lid.
Savory Key Lime Sauce
Makes about 1 cup Delicious over grilled chicken or fish! Ingredients: 2 tablespoons unsalted butter 2 tablespoons chopped onion 2 tablespoons chopped shallot 1/2 cup dry white wine 1 cup chicken stock 1/2 cup beef stock 1 cup whipping cream 2 tablespoons fresh key lime juice Salt and pepper Directions: In large skillet over medium heat, melt the butter. Saute the onion and shallot for about 3 minutes. Add wine and bring to a boil. Simmer until liquid is reduced by half, stirring occasionally, about 5 minutes. Add both stocks and again bring to a boil, them simmer until liquid is reduced to 6 tablespoons, stirring frequently, 12 to15 minutes. Add whipping cream and reduce to 1 cup, stirring frequently, 5 to 7 minutes. Stir in fresh lime juice. Season with salt and pepper.
Key Lime Pots du Creme
Serves 6 Ingredients: 4 large large egg yolks 1 (14-ounce) can sweetened condensed milk 1/2 cup fresh key lime juice - approximately 6 to 8 limes 3 teaspoons grated lime peel, green portion only, divided Whipping cream 1 to 2 tablespoons confectioners' sugar Directions: Preheat the oven to 325 degrees F. Using an electric mixer, beat the egg yolks until they are thick and turn light yellow. Add the sweetened condensed milk and mix on low, slowly adding the lime juice. Once the juice is incorporated, stir in the grated lime peel by hand. Put six (1/2-cup) ramekins in a deep baking dish. Divide the lime mixture evenly among them. Pour very hot tap water into the baking dish so that it comes within 1/2-inch of the top of the ramekins. Take care not to get water into the ramekins. Cover with aluminum foil. Bake until the custards are just set in the centers, about 15 minutes. Do not overbake. Remove the dish from the oven, carefully remove ramekins from the water, and cover with plastic wrap. Refrigerate at least 3 to 4 hours, preferably overnight. Whip the cream with the remaining teaspoon of lime zest and the powdered sugar (to taste) to soft peaks. Gently mound a little bit on top of each pot to serve.