Beyond chicken: Delicious lamb recipes
Chicken is a staple of our family diet and that's perfectly fine. We can dress it up and dress it down. Likewise with pork and beef. But my favorite meat is lamb - and we don't enjoy it nearly enough.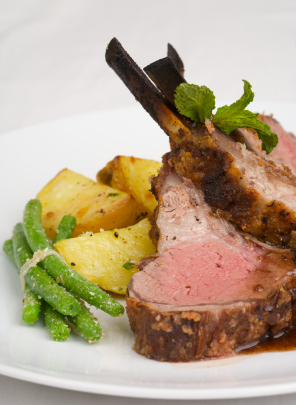 Lamb isn't just for special occasions
A friend tells me a story of traveling to New Zealand and how everything we think of with beef, they make with lamb (more sheep than people, you know). Once she saw "hamburger" listed at a restaurant and was excited to have some beef, but it was made with - you guessed it - lamb. Sounds like heaven to me, actually. Some of my favorite childhood memories are of my grandmother making leg of lamb for Sunday dinner. While many associate lamb with special occasions (including Easter), it doesn't have to be that way. There are many lovely ways to enjoy lamb every single day. While not the cheapest meat at the market, it is a lovely variation for many meals. One of the nicest and easiest ways to enjoy lamb is grilled lamb chops. After seasoning the chops with fresh rosemary, garlic and sea salt, grill for several minutes on each side until the meat is done to your liking. Really, it is that simple. The flavor of lamb speaks for itself!
Lamb delectably pairs with both sweet and savory flavors
Lamb is a staple of many ethnic cuisines and goes well with so many flavors - from the classic garlic and rosemary to the succulent sun-dried tomatoes, olives and balsamic vinegar. On the fruity side, pomegranate, apricots and cherries also work especially well. And, of course, mint jelly (though it was never my thing, it was a favorite of my father's). Lamb can be marinated or dry rubbed - or prepared very, very simply. My kids' favorite ways to enjoy lamb are in lamb pilaf and in a dish made with honey and hoisin sauce over couscous. At Indian restaurants, I always go for the lamb saag. We've tried lamb sausages and like them, though they can be hard to find here in the outer 'burbs. I make a variation on leg of lamb every year for Easter, and on Christmas Day, I put together a lamb stew in the morning after gifts are opened and let it simmer most of the day for a hearty but relaxed mid-afternoon meal with spaetzle made by my husband and a salad.
Lamb Stew
Lamb stew is definitely one of those "put it together as it feels right to you" dishes. Use this as a jumping off point!
Ingredients
2 lbs lamb stew meat, cubed
Flour Olive oil
1 large onion, chopped 2 to 3 carrots and/or parsnips, peeled and chopped
2 to 3 stalks of celery, chopped
Mushrooms, quartered
Red wine Meat stock - preferably lamb stock, of course
Several potatoes, washed well and chopped
Salt and pepper
Directions
Toss the cubed lamb meat in the flour so it's just coated. In a large pot over medium-high heat, heat the olive oil. When it's hot, toss in the lamb and brown on all sides.
Add the onions, carrots, parsnips, celery and mushrooms and saute 5 to 10 minutes. The veggies should be browning. Pour in some red wine and shake the pan to deglaze.
Add the potatoes. Then add in enough stock to cover everything and then some.
Bring the pot to a boil, then turn it way down to a simmer and cover. Let simmer until it's done to your liking, checking occasionally and adjusting the seasoning. This goes great over egg noodles, cooked barley or any type of dumplings.