Christmas gifts your kids can make
Gifts made with love by your kids can be the most appreciated and remembered gifts for family and friends. Not only is creating gifts from scratch more meaningful than a hastily grabbed store-bought item, it also helps pique all the senses of your little ones and gives them an empowering feeling of pride over their heart-filled creations. Let your kids be Santa's little elves in the kitchen this year. Here are some kid-friendly gift ideas, courtesy of children's book author Beth Engelman.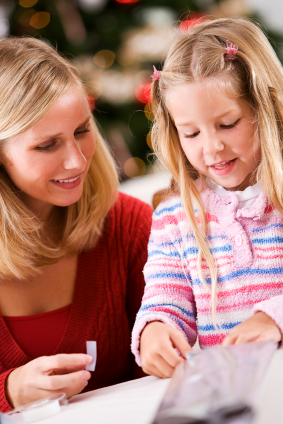 Homemade gifts are extra special
"When it comes to getting gifts from children, nothing is more special than the ones they make by hand," says Engelman, who is currently working on a craft book with illustrator Jenna Riggs. "Perhaps it's because children are so sincere and authentic when it comes to making things that their sense of wonder and desire to create something special is palpable. Rarely is anyone so intent on making the 'greatest gift in the universe' than a child."
Making gifts is rewarding for children - and parents
As a mother of a "rambunctious three year old," Engelman has seen first-hand how calming and rewarding it is for a child to follow a predictable set of instructions - or recipe. She credits the repetition of creating multiple presents as well as the multi-sensorial experiences that gift-making involves as being beneficial for her son Jackson and for herself. She adds, "Creating things by hand is indeed more thoughtful and meaningful for the recipient. [And] as far as I'm concerned, it beats dragging my easily excitable little guy to an over-stimulating store."
Tips to get your tykes interested in making gifts from the kitchen
One year, your children may insist on making food-type gifts; the next year, they may not be so enthused. If your little ones are a bit reluctant on the gift-making, Engelman suggests the following tips to keep them keen on the kitchen.
Make it sweet!
What's not to love about baking a cake, decorating cookies or dipping pretzels in chocolate? Set aside some sweet odds and ends as you prepare your gifts. A few chocolate chips, candy cane pieces or broken pretzels can pique - and keep - your child's interest.
Let them participate
Have your child help you measure, sift, stir and mash. These are easy and fun tasks they can do while you take care of anything requiring knives or something hot. If your present includes artistry, such as decorating a cookie cake, make your child the artist in charge!
Make it simple
Stay away from making overly complex recipes or ones that involve a great deal of technique. Keep the process simple so you and your child won't get discouraged.
Use repetition
Take advantage of making multiple gifts by making the same thing more than once. With each repetition, your kiddos will get more familiar with the process which will increase their confidence and make the experience that much more fun for everyone.
Holiday gifts your kids can make
Simple gifts of food can be easily assembled by your children and, with a little creative packaging, their gifts will be the highlight of the giftees on your Christmas list. Here are Engelman's top kid-friendly picks for gift-making.
The Perfect Nighttime Snack
Fill up a large clear vase with the perfect nighttime snack - popcorn and milk duds. Engleman suggests using a vase you already have and to layer popcorn and milkduds, placing a sheet of aluminum foil - which acts as a shelf - in between. She says, "This is a great activity to do with your kids who will love to pour each layer and watch how the recipe 'grows.'"
Traditional Cookie Mix in a Mason Jar
The layering technique also works well (and is lovely) with a cookie dough recipe. Pull out your favorite chocolate chip cookie recipe and layer flour, salt, baking soda, sugars and chocolate chips in a large mason jar. Then include a recipe card or note with instructions to add the butter, eggs and vanilla as well as the baking temperature and time. Wrap curly ribbon around the lid and you've got a delicious last minute gift that your kids can put together for the holidays or any other gift-giving time of the year.
Wishing you Love, Laughter and S'more!
For the camper on your gift list, a box of s'more fixings couldn't be more appreciated. Engelman recommends recycling on old gift box or shoebox and work with your child on decorating it or covering it with wrapping paper. Fill the box with neatly tied bags of marshmallows, graham crackers and chocolate chunks - or attach a giant chocolate bar to the top of the box. On a notecard, wish the recipients Love, Laughter and S'more and then watch them run to the nearest campfire.
Grilled Cheese Platter for the Gang
Need a food gift to feed a crowd? Engelman says, "When it comes to giving gifts to a large group such as the staff at your pediatrician's office or sports complex, this is a favorite. Jackson loves making the sweet seasoning mixture and 'taste testing' the apple slices."
Combine in an aluminum pan or inexpensive platter: 1 loaf of rustic Italian bead, sliced 1 chunk of Havarti cheese, sliced Several red apples sliced and wrapped in airtight plastic wrap to prevent browning A zip lock bag, empty baby food jar, or Tupperware container filled with a mixture of 1 part cinnamon to 2 parts sugar.
Include the following directions on a recipe card: Combine bread, cheese, apple and sweet seasoning mix. Toast for 3 to 7 minutes or until cheese is melted and ENJOY!!
Note: Most offices and work places have toaster ovens in their "kitchens" or break rooms.
An oldie but a goodie - Hot Chocolate Mix
Use a canning jar with a detachable inner ring. Use the jar's lid to trace and cut one circle from colored cardstock, an old calendar or greeting card. The circle will be the can's lid. Decorate the circle if desired. Let your kids layer store-bought cocoa mix, mini chocolate chips and mini marshmallows in the jar. Place the paper "lid" on top and then screw on the inner ring to make sure the lid is airtight. Include a note card with directions to make hot cocoa and tie a ribbon around the lid.
Note: Mason jars can be filled with anything, from homemade trail mix to chocolate dipped pretzels. Give your kids a variety of ideas for fillers and let them decide which ones to include. Getting your kids in the kitchen to make holiday gifts from scratch not only gives you quality family time (which can be so short during the holiday hustle bustle), but it also teaches your children an appreciation for using their hands - and creativity - in making gifts for others. Happy Holidays!