Creative recipes with leftover cranberry sauce
Whether you opt for canned cranberry sauce or revel in making your own, cranberry sauce can be so much more than a simple sweet side for the holiday turkey or ham. It can be deliciously transformed into a number of other dishes, from savory to sweet, from breakfast to dessert. If you have cranberry sauce left over from Thanksgiving or a spare can in the pantry, give these recipe ideas a tasty try.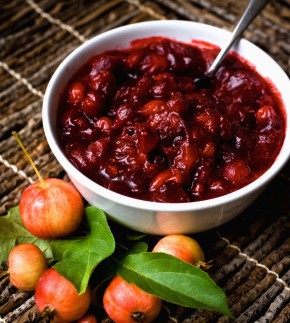 Cranberry sauce is remarkably versatile
Though you naturally associate this ruby-colored sweet sauce with Thanksgiving turkey or as a festive Christmas side dish, cranberry sauce can brighten up, and add a special holiday feel to many of your everyday meals.
Here are a just a few inventive cranberry sauce ideas:
Stir into yogurt and top with chopped toasted walnuts or pecans.
Swirl into cooked oatmeal for a sweet and colorful treat.
Warm with a little orange juice to make cranberry syrup for pancakes and waffles.
Puree with a banana, yogurt or tofu for a pretty morning shake.
Make a peanut butter and cranberry sauce sandwich.
Mix a couple tablespoons of cranberry sauce with olive oil and red wine vinegar for a festive vinaigrette.
Thin down with juice and use as a glaze for broiled meats or seafood.
Fill a muffin pan with chocolate cupcake batter and top each cupcake with a tablespoon of cranberry sauce before baking.
Puree with cream cheese for a cranberry whip or dip.
Brighten up a scoop of ice cream with warm cranberry sauce and chocolate shavings.
Cranberry sauce muffins with cranberry butter
Makes 12
Ingredients
1 cup jellied or whole berry cranberry sauce
1/4 teaspoon freshly grated nutmeg Juice of a lemon
1-1/2 cups all purpose flour
1/2 cup sugar
2 teaspoons baking powder
1/2 teaspoon ground cinnamon
1/2 teaspoon salt
1 egg
1/2 cup evaporated milk (or egg nog if you have some)
1/3 cup melted butter
1 teaspoon pure vanilla extract
1 stick butter, softened
Directions
Preheat oven to 400 degrees F. and spray a muffin pan with cooking spray or grease with butter. In a small bowl, whisk together cranberry sauce, nutmeg and lemon juice. Set aside.
In a large bowl, mix flour, sugar, baking powder, cinnamon and salt. In a small bowl, whisk together egg, milk or nog, melted butter and vanilla extract. Add egg mixture to flour mixture and mix until just moist.
Fill muffin cups with half of the batter. Spoon 2 teaspoons cranberry sauce onto the center of each cup of batter. Top with remaining batter. Bake for 15 to 20 minutes or until top springs back when touched lightly.
Combine softened butter with remaining cranberry sauce in a food processor to make cranberry butter. Transfer to a ramekin or small bowl and serve with warm muffins. Note: If making cranberry butter ahead, transfer from the food processor to a piece of wax paper and form butter into a log. Wrap wax paper around butter and refrigerate until ready to use. To serve, unwrap butter and cut into slices to serve with muffins or other breakfast dish.
Cranberry meatballs
Makes 36
Ingredients
1-1/2 pounds lean ground beef
1 small onion, minced
1 tablespoon mixed dried herbs of your choice (rosemary, sage and tarragon are ideal)
1 tablespoon red wine vinegar
1/2 teaspoon salt or more to taste
Freshly ground black pepper to taste
2 eggs
1 cup panko (Japanese) breadcrumbs or regular breadcrumbs
1/4 cup dried sweetened cranberries
Vegetable oil 1 cup jellied or whole berry cranberry sauce
Directions
Preheat the oven to 375 degrees F. In a large bowl, mix ground beef, onion, herbs, vinegar, salt and pepper. Add eggs and mix well. Add 1/2 cup of the breadcrumbs and dried cranberries and mix well.
Form the meat mixture into 36 balls and refrigerate for at least 30 minutes or up to overnight. Pour 3 inches of vegetable oil into a large deep-sided skillet over medium heat. When oil is hot, roll meatballs in remaining breadcrumbs and cook in batches, turning often, for 5 minutes or until they are golden brown on all sides. Remove with a slotted spoon and drain on a stack of paper towels. Put the meatballs on a baking sheet and bake in the oven for 10 minutes.
Meanwhile, heat cranberry sauce in a small saucepan over medium heat, stirring until warmed through. Serve meatballs with cranberry sauce with a side of rice or pasta - or skewer meatballs with toothpicks and serve as an appetizer using the cranberry sauce as a dip.
Boneless pork roast with cranberry orange glaze
Serves 6 to 8
Ingredients
1 (16-ounce) can whole berry or jellied cranberry sauce
Zest and juice of an orange
1 teaspoon dried sage 1 (2-1/2 pound) boneless pork roast
Olive oil Salt and black pepper to taste
Directions
Preheat oven to 350 degrees F. In a medium-sized saucepan over medium heat, whisk together cranberry sauce, orange zest and juice, and sage. Bring mixture to a boil then reduce heat to medium-low and simmer for 5 minutes. Set aside 1 cup of the glaze to serve with the cooked pork.
Rub pork roast with olive oil and season with salt and pepper. Set in a roasting pan on a wire rack and cover with foil. Bake for 35 minutes then remove foil. Bake, basting frequently with remaining glaze, for another 25 minutes until internal temperature reaches 160 degrees F. on a meat thermometer. Discard unused basting glaze.
Remove roast from the oven and tent with foil. Let stand 10 minutes before slicing and serving with reserved cranberry glaze.