Meal plan: Week of November 30
Thanksgiving is over and we are now looking toward Christmas. The first snow is expected soon; no more deluding myself that a sunny day might mean some warmth, too. When I asked the kids if there was anything in particular they were really itching for in the coming week, their responses were all comfort food. Okay, then comfort food it is.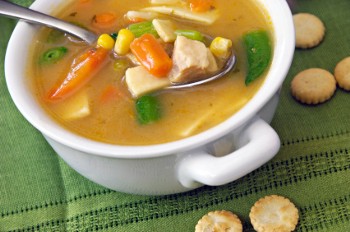 Meal planning with comfort food
We'll be through the Thanksgiving leftovers in pretty short order. Just enough to satisfy our desire for them without feeling like they are getting old. The final hurrah for the turkey will be turkey soup - with enough left over to freeze for another meal. The fruits and vegetables available in the market are changing a bit. I'm finding it a little more of a challenge to shop all fresh while staying in budget. It's taking some extra planning and care, but I'll make it all work. Sunday: Turkey soup with wild rice, fresh bread, salad. A fitting end to the carcass of Thursday's wonderful Thanksgiving meal. Monday: Chicken broccoli bake* over egg noodles, salad. Not our healthiest meal, I admit, but the kids usually eat quite well when I make this. Tuesday: Pink pasta with sausage*, salad A simple twist on a easy dish. Wednesday: Leftovers for the kids, white bean and rosemary soup for the parents, with some fresh, crusty bread. Back to our crazy Wednesdays. Thursday: Mixed vegetable and bacon frittata, salad. Looks like this will be our busiest day of the week, and I think I'll be able to pull this meal together in pretty short order. Particularly if I get really organized and chop the veggies the night before. The great thing about frittatas is that once you have the basic recipe down, you can get creative with so many ingredients. Friday: Homemade pizza. The weekend looks busy, so we'll start it off with pizza night - and perhaps rent a movie or two as well. Saturday: Turkey barbeque chili, homemade cornbread, salad. This is one of our favorite meals. We (well, my husband) still has some fall chores to take care of in the yard if the weather cooperates, so a favorite, warming meal seems appropriate.
Chicken Broccoli Bake
Chicken pieces - a mix of anything you have, really. I'll be using chicken breast cutlets 1 can cream of chicken soup 1-1/2 c milk 1 to 3 tsp curry powder (to taste) 2 c frozen broccoli florets Preheat oven to 425 degrees F. In a bowl, whisk together the cream of chicken soup, milk and curry powder. Place the chicken pieces and broccoli in a baking dish and pour the soup mixture over. Cover with foil and bake 45 minutes or until the chicken is cooked through. Serve over noodles or rice.
Pink Pasta with Sausage
8 oz Italian sausage, sweet or hot 1/2 jar marinara sauce 8 oz part skim ricotta 1 lb pasta Cook the pasta to al dente. While the pasta is cooking, crumble the sausage into a saute pan and cook until done and slightly browned. Drain. In a saucepan, heat the marinara sauce to a simmer. Remove from heat and whisk in the ricotta. Then stir in the sausage. Toss with the drained pasta and serve immediately.