The best recipes for Thanksgiving leftovers
Almost as wonderful as the Thanksgiving meal itself are the days of leftovers afterward. While I claim to love it when leftovers are minimal, I secretly believe I didn't make enough for Thanksgiving if I can't graze happily through the weekend.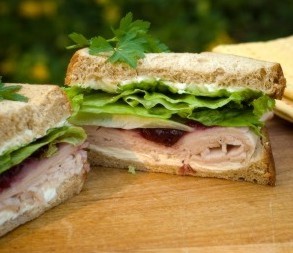 This year, I am grazing happily. In addition to the leftover classics of Thanksgiving sandwiches and turkey soup (I like mine with wild rice), I've heard of some crazy things being done with leftovers. If I liked pumpkin pie, for example, I'd probably be really into battering and deep frying slices of it. Instead, I just enjoy pear pie for breakfast (don't tell my kids, okay?).
Variations on the Thanksgiving sandwich
The "classic" Thanksgiving sandwich includes thin layers of turkey, stuffing, gravy and cranberry sauce between two pieces of bread. As wonderful as the classic is, think of it as a jumping off point for your own creative use of leftovers. You could...
make it an open-faced Thanksgiving melt topped with slices of the cheese of your choice.
make it a burrito or wrap by rolling it into a tortilla.
make it a panini, and add in some brie.
make the stuffing the "bread" by frying slabs of stuffing until crisp.
Morning After Thanksgiving Mash
Butter Cubed turkey Stuffing Gravy Cranberry sauce In a large skillet, melt the butter. Toss in the cubed turkey and swish around for a moment. Add in some stuffing, mashing to break it up. When the edges of the stuffing bits just start to get crisp, spoon in some gravy. Stir it around until it's all hot. Serve with a big dollop of cranberry sauce on top. You can also serve this for lunch over warmed up mashed potatoes.
Mashed Potato Pancakes
Mashed potatoes 1 egg 1 to 2 shallots, minced 2 to 4 tbsp flour Salt and pepper Vegetable oil In a large bowl, mix together the mashed potatoes, egg, shallots, flour, salt and pepper. Mix well. Adjust the flour according to the relative stiffness of the batter. In a large frying pan, heat a thin layer of oil. When the oil is hot, place scoopfuls of the mashed potato batter and flatten into a pancake. Cook until golden brown on each side, turning carefully and adding more oil between pancakes as needed. Drain on paper towels and serve with applesauce and sour cream. Another variation is to add pureed glazed carrots to the batter for carrot potato pancakes.
Leftover Veggie Frittata
9 eggs 1/2 c milk or cream Salt and pepper Butter Shredded cheese Mixed, chopped leftover veggies Preheat oven to 350 degrees F. Whisk together the eggs and the milk or cream. Season with salt and pepper. In a large saute pan over medium high heat, melt the butter. Saute the mixed veggies for a few minutes until hot. Pour the egg mixture over the veggies and sprinkle with cheese. Place the saute pan in the oven and bake 15 to 20 minutes or until the egg is set. Slide onto a plate or cutting board and slice into wedges to serve.