Holiday party dessert recipes
Between Thanksgiving and New Year's Day, holiday parties are aplenty. Whether it's the office or neighborhood get togethers or your own festive fete, desserts are a pronounced part of the seasonal gatherings - particularly dessert dishes colorfully displaying red.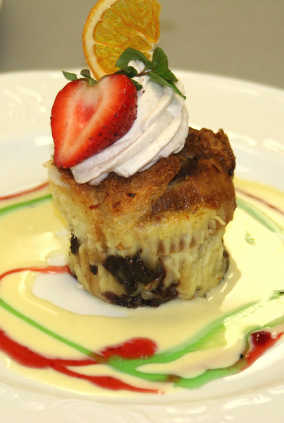 Festively red cherries are a must-eat superfood
And if you are wanting to follow the ever growing trend of including superfoods in your recipes - for parties or in general - cherries make a stunning addition to any festive dish. Fresh, dried, frozen or as juice, these deep colored fruits are known to have the highest levels of disease-fighting antioxidants as well as an abundance of vitamin C, beta carotene, potassium, iron, magnesium and fiber.
Health benefits of cherries
Research indicates that cherries can relieve inflammation - easing arthritis and gout pain, reducing heart disease and fighting cognitive decline in addition to combating cancer and diabetes. One of the more recent emerging benefits of cherries is aiding in restful sleep - cherries naturally contain melatonin (sleep hormone) and can prevent insomnia and jet lag. But the health benefits aren't the only reason to eat more cherries - in any form, they are just wonderfully delicious and are perfect for Thanksgiving, Christmas and New Year's Eve celebrations. And because they are available - when not in season - dried, frozen and in juice, you can enjoy them all year round.
Holiday party dessert recipes featuring cherries
Recipes courtesy of the ChooseCherries.com
Cherry-Banana Raisin Bread Pudding
Serves 12
Cut into small party sized servings, a piece of this tender sweet bread pudding will be an easy grab for your guests.
Bread pudding ingredients
3 eggs, beaten
2 cups low fat milk
1/2 cup sugar
2 teaspoons vanilla extract
1/2 teaspoon ground cinnamon
4 cups raisin bread cut into 3/4-inch squares (8 ounces)
2/3 cup dried tart cherries
1 large very ripe banana, quartered lengthwise and cut into 1/2-inch-thick pieces

 
Creamy topping ingredients
1/2 cup light sour cream
4 teaspoons packed brown sugar
1/4 teaspoon finely shredded orange peel
1/8 teaspoon ground cinnamon

 
Directions
Preheat oven to 350 degrees F. Stir together beaten eggs, milk, sugar, vanilla and 1/2 teaspoon cinnamon in a medium bowl using a wire whisk. Place two-thirds of the bread pieces in an 8-inch square baking pan or dish. Top with cherries, banana slices and remaining bread pieces.
Pour egg mixture evenly over bread mixture. Bake, uncovered, for 65 minutes or until a knife inserted near center comes out clean. Set aside to cool. Meanwhile, for topping, stir together sour cream, brown sugar, orange peel and 1/8 teaspoon cinnamon.
Cut bread pudding into 12 evenly-sized squares. Place each square in a festive foil tin or set on a holiday serving platter. Dollop each with a bit of sour cream topping and serve.

 
Red Rustic Tart
Serves 8
Rustic tarts are not only fun to prepare, they make an alluring dessert because they aren't perfectly fitted in a pie plate like the usual pie. Apples and dried cherries provide a tender chewy contrast to the crisp crust and the sweet glaze just makes the dessert even more irresistible.
Tart ingredients
3 large apples such as Jonathan or Macintosh, peeled, thinly sliced (4 cups)
5 tablespoons sugar, divided
1-1/4 teaspoons ground cinnamon, divided
1 cup dried tart cherries
1 refrigerated rolled pastry for a 9-inch pie (1/2 of a 15-ounce package)
1 tablespoon butter
Glaze ingredients
1/2 cup tart cherry juice
2 tablespoons honey
Whipped cream or vanilla ice cream

 
Directions
Heat oven to 375 degrees F. Combine apples, 4 tablespoons of sugar and 1 teaspoon of cinnamon in a large bowl and toss well. Stir in cherries. Let stand 10 minutes, tossing once.
Line a 15 x 10-inch jelly roll pan with foil and coat foil with cooking spray. Unroll pastry onto pan. Mound apple mixture over center of pastry leaving a 3-inch border around edges. Fold up edges of pastry over apple mixture leaving a 4-inch opening in center. Gently fold and press pastry onto apple mixture.
Cut butter into small pieces and arrange over apple mixture. Combine remaining 1 tablespoon sugar and 1/4 teaspoon cinnamon and sprinkle over tart. Bake 30 to 35 minutes or until pastry is golden brown and apples are tender. Let stand 20 minutes.
For the glaze, combine 1/2 cup tart cherry juice and 2 tablespoons honey in a small saucepan. Bring to a boil over high heat stirring occasionally. Reduce heat and simmer gently 6 to 8 minutes or until slightly thickened and reduced to about 1/4 cup. Cool to room temperature - glaze will thicken upon standing.
To serve, drizzle glaze over tart, cut and place on holiday-themed party plates or on dessert plates for finer dinner affairs and top with whipped cream (or vanilla ice cream if it isn't too chilly).

 
Super Fruit Cobbler
Serves 8
Small dessert dishes filled with this colorful cobbler will beckon guests to your dessert table. Easy to bake but impressive to show, you may want to make extra.
Ingredients
2 cups frozen pitted tart cherries, thawed
1 (12-ounce) bag frozen mixed berries, thawed
3/4 cup brown sugar, divided
3 tablespoons cornstarch
1/2 teaspoon ground cinnamon
1/4 teaspoon freshly ground nutmeg
1 cup reduced-fat buttermilk baking mix
1/4 cup reduced-fat sour cream
3 tablespoons low fat milk

 
Directions
Heat oven to 375 degrees F. Combine cherries, mixed berries, 1/2 cup of the brown sugar, cornstarch, cinnamon and nutmeg and mix well. Spoon mixture into an 8- or 9-inch baking dish.
Combine baking mix, remaining 1/4 cup sugar, sour cream and milk and mix well to form a stiff batter. Drop batter over cherry mixture forming 8 mounds. Bake 30 to 35 minutes or until bubbly and cobbler topping is golden brown. Let stand 20 minutes. Serve warm or at room temperature.

 
Tip
To save on cleanup time, thaw and mix the berries in a baking dish.