Pear recipes for fall
Some people think that pears are boring, but nothing could be farther from the truth. While apples get most of the fall fruit glory (and are also related), pears are actually my favorite fall fruit - and not just because I get to make my beloved pear pie. Their taste is subtler than apples and other fruits, yes, but it's also more sublime.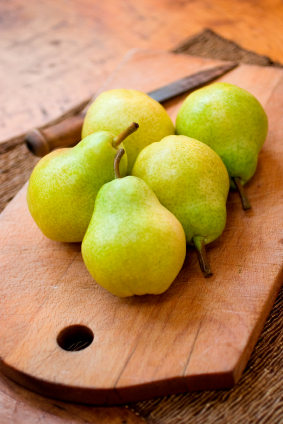 The many wonderful uses of pears
Pears come in several varieties: light brown-skinned Bosc, green-skinned Anjou and Bartlett, red, and small Seckel pears. I prefer Bosc in salads, Seckels for a special dessert treat, and Bartletts for pie. And all of them for snacking. Pears are an extremely versatile fruit. The fruit is an excellent addition to salads and some soups (parsnip soup, for example), and stars in a wide range of dessert recipes. The pear is actually one of the least allergenic fruits there is, and thus is often one of a baby's first solid foods. Pear juice is used to hold and complement other canned fruits. Pear wood is preferred for some musical instruments and furniture. There are excellent pear brandies and liqueurs available, too.
Complementing flavors for pears
There are so many flavors that work well with pears. Cheeses - blue, gorgonzola, goat, brie, some hard cheeses - are lovely, as are herbs and spices such as rosemary and ginger. Balsamic vinegar complements pears well, as does chocolate, and nuts (walnuts, almonds, hazelnuts). Pears and figs are a wonderful combination - years ago I made a pear and fig strudel with homemade strudel dough that was heavenly. Though I can find them only occasionally, I like dried pears for snacking, too. My favorite ways to enjoy pears (in addition to pear pie) are:
Simple pear and arugula salad with balsamic dressing and chevre (goat cheese)
Pear, mango and avocado salad
Champagne poached pears
As part of chocolate fondue
Straight up, of course
Pear, Mango and Avocado Salad
1/2 c balsamic vinegar 3 tbsp honey 8 oz baby spinach 2 firm, ripe pears, peeled, cored and sliced 1/2-inch thick 2 tbsp lemon juice 1 large avocado, pitted, peeled and sliced 1/2-inch thick 2 firm, ripe mangoes, pitted, peeled and cut into 1/2-inch dice 3 oz feta cheese, crumbled Whisk together the vinegar and honey. Toss with about a quarter of the spinach. Arrange that spinach on several individual plates. Toss the pears and avocado with the lemon juice. Arrange the pears, avocado, mango and remaining spinach on the plates. Sprinkle with feta. Offer remaining dressing to be used to taste.
Champagne poached pears
1 bottle champagne, preferably pink (about 3-1/2 cups) 1 c sugar Zest of 1/4 lemon 1 tsp rose water (optional) 1/2 vanilla bean, split lengthwise 2 firm, slightly under-ripe large pears or 4 small pears, peeled Combine champagne, sugar, lemon zest, rose water and vanilla bean in a medium saucepan and bring to a simmer. Lower the pears into the liquid. Add up to 1 cup of water to make sure the fruit is fully submerged. Simmer until the pears are tender, 15 to 17 minutes for small pears, 25 to 30 minutes for large ones. Cool in the cooking liquid for 30 minutes before serving.