Thanksgiving twists on gravy and cranberry sauce
Thanksgiving isn't the same without the details - I'm speaking about the cranberry sauce and the gravy. While some people go for canned, ridges in the jelly and all, these extras - homemade, that is - can be so much more than extras. They can be the stars of your holiday feast.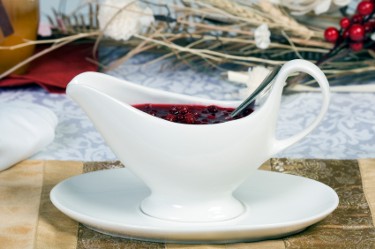 Getting the gravy
I love gravy, but until recently I was afraid to make it. Afraid to screw it up, I should say. I left the task to my husband and he did a spectacular job. In fact, he remains a much better gravy maker than I am. A few years ago, however, I realized I needed to conquer my fear. I needed to master the technique of gravy making. So I did a little research and did just that. The turning point was learning how to work with a roux. What's a roux? A roux is a thickening agent made from butter and flour. Cooked together in the right proportions a few days in advance and stored, roux can be your secret ingredient for perfectly smooth, thick gravy. In addition to thickening the gravy, the roux adds a bit of richness, too. Then once you master the basics of gravy, you can start getting creative. With herbs and wine and stock, you can add amazing flavor to your Thanksgiving table. Splash in a little Port or Calvados, for example. With a little creativity, you can turn an already good part of the meal into a great part of the meal.
Creative cranberry sauce
I never used to eat cranberry sauce. The sauce from the can always tasted a little tinny to me, so I avoided it. It wasn't until I moved to cranberry country that I started to really like it. A couple of years into my newfound enjoyment of cranberry sauce, we happened to have a pomegranate on hand on Thanksgiving day. Purely on whim, I asked the boys to extract the seeds (doing it in a bowl of water is best) and added them to the cranberry sauce. This was such a hit! This sauce has become my boys' favorite part of Thanksgiving, aside from dessert. There are plenty of other ways you could add a twist to the traditional cranberry sauce. You could make it more savory and add thyme, for example. The point is to go beyond the expected. Try something new and different, and maybe create a new tradition. Just because it's what your family has always done doesn't mean you have to do it the same way!
Roux
Ingredients
4 tbsp unsalted butter
6 tbsp flour
Directions
Melt the butter over medium-high heat.
Whisk in the flour all at once and, stirring constantly, cook until the mixture starts to give off a nutty aroma. The mixture will also thin a bit.
Cool, cover tightly, and refrigerate until ready to use.
The more you cook a roux - the more golden brown in becomes - the less its thickening ability. Keep this in mind as you plan for the relative thickness of your resulting gravies.
Really Good Gravy
Ingredients
Drippings from a roast
1 c good red wine
2 c stock Herbs - bay leaves, peppercorns, sage, other herbs you used for roasting the turkey
Directions
Pour off the drippings from roasting and skim off any fat. Place the roasting pan over high heat, and deglaze the pan with the wine and stock.
Dissolve as much of the caramelization as possible. Pour the resulting liquid into a saucepan.
Add the herbs and reduce by one third. Reduce the heat and whisk in a couple tablespoons of the roux. You will see the gravy thicken. Continue to whisk and cook for a couple more minutes, then allow to cool slightly before serving.
Cranberry Sauce with Port, Orange and Pomegranate
Ingredients
12 oz fresh cranberries, the fresher the better
2 tbsp grated orange peel 3/4 c orange juice
Splash of orange liqueur (optional)
3/4 c sugar
1/4 c Port
1/2 to 3/4 c pomegranate arils
Directions
In a saucepan over medium heat, combine the cranberries, orange peel, orange juice, orange liqueur and sugar.
Bring to a boil, then reduce heat and let simmer until the berries have all burst, about 10 minutes.
Add the Port and cook another 2 to 3 minutes. Cool completely.
Covered tightly, the sauce stores well for about a week. Just before serving, bring the sauce to room temperature and stir in the pomegranate arils.
---
More From SheKnows Explorer
---
---