Pretty, palatable persimmon recipes
I'm very strict when I go into the local warehouse store. I take a list and do not let myself stray from it. If I see something of interest not on the list, I make a note of it and plan for another time (and make sure it's something we'll really use!). As with all food shopping expeditions, I also make sure I eat before the trip so I am not tempted into unnecessary purchases. This helps keep our food budget in line. The other day, in spite of these self-made rules, I came home with something extra: a package of nine persimmons. They are gorgeous. I could not help myself.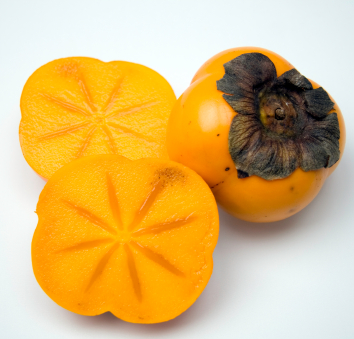 Persimmons are a special treat
I first tried persimmons about 15 years ago. I had never seen one before when my husband and I happened upon a selection of them in a market. My husband knew about them and insisted we get a couple - he already loved persimmon pudding and wanted to introduce me. We had to wait a few days for the fruits to really ripen and soften, but once I tried them, I was hooked. They have a lovely taste and a full texture when eaten straight. Cooked, you can do all sorts of things with them. Since that first taste, persimmons are a very special treat for me.
Hachiya and fuyu persimmons
Persimmons originated in Asia, though some varieties are native to other areas of the world. There are two main varieties: hachiya and fuyu. Hachiya persimmons must be ripened to softness before they are edible while fuyu persimmons can be eaten while still firm. The persimmons I usually acquire are hachiya persimmons. They are beautiful when ripe - a deep orange - in addition to being quite tasty. I'm perfectly happy eating a persimmon raw. My kids like them in smoothies made with plain yogurt, orange juice and honey. My husband loves persimmon pudding and I try to make it in the winter whenever I can.
Persimmon pudding with caramel sauce
1 c persimmon pulp 1/4 tsp baking soda 1-1/4 c granulated sugar 1 tsp baking powder 1/2 tsp cinnamon 1/4 tsp salt 1 egg 1 c plus 2 tbsp all-purpose flour 1-1/4 c milk 1 tsp melted butter 1 c dark brown sugar 1 c water 2 tbsp butter 1 tsp pure vanilla extract Preheat the oven to 325 degrees F. and grease an 8-inch square glass baking dish. Beat together the persimmon pulp, baking soda, sugar, cinnamon, salt and egg. Add 1 cup of flour alternately with the milk, and then stir in the melted butter. Pour into the prepared baking dish. Bake for 50 minutes. While the pudding is cooling, make the caramel sauce. In a medium saucepan, mix together the brown sugar, 2 tablespoons flour and the water. Place the pan over medium heat and bring to a boil, stirring constantly. Simmer until the caramel is thick. Remove from heat, stir in butter and vanilla. Serve warm over slightly cooled pudding.
Persimmon brown rice
A few years ago, I happened upon some dried persimmons and brought them home not quite knowing what I would do with them. At some point soon thereafter, they caught my eye when I was retrieving brown rice from the pantry - and this dish was born. 2 c brown rice 2 c chicken stock 2 c water 1/3 c dried persimmons, snipped into small bits Bring the stock and water to a boil over medium heat. Add the rice and the dried persimmons. Lower heat, cover, and simmer until rice is tender.