Autumn jewels: Recipes with cranberries
I live in cranberry country and we are at the tail end of harvesting season. It has been a banner year for cranberries around here. One of the last bogs in our area to be harvested is just down the street from me, and this morning I walked there to watch the activity with my daughter, my dog and a close friend. With the last of the fall color on the trees, the blue sky with white fluffy clouds passing by...it was beautiful.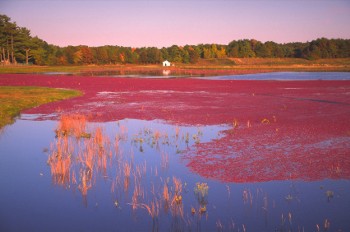 Cranberries are beautiful and tart
Cranberries, the ubiquitous Thanksgiving sauce ingredient, are the fruit of low, evergreen shrubs. The berries are a beautiful deep red when fully ripe, and fairly firm. Cranberries are extremely tart and definitely need sweetening. From a health perspective, ongoing research indicates that cranberry consumption contributes to cardiovascular and immune system health - and they may have anti-cancer properties, too.
Cranberry bogs
Cranberries are grown in bogs surrounded by a ditch that is a part of the irrigation and flooding system. Though one typically sees pictures of bogs when they are flooded, they are not flooded year round. The bogs are flooded mid-winter to protect the plants from extreme cold (we ice skate on the frozen bogs), and during harvesting season. Otherwise, the bogs are just irrigated regularly to maintain soil moisture. The cranberry bogs in our town contribute to the sense of open space in an otherwise populated suburb!
Harvesting cranberries
Cranberries can be dry-harvested or wet-harvested. Dry-harvested cranberries are sold as fresh fruit while wet-harvested cranberries are processed into juices, canned sauce and other uses - and it's the wet harvesting that is so fun to watch. The bog is flooded, then the bog owners climb aboard these specialized vehicles that dislodge the berries from the bush and ride around the bog. The berries float to the surface and are gathered into a compact area near the edge of the bog with booms. Typically, the berries are sucked up into a truck from there, but in the larger operations, helicopters are increasingly used to carry the harvest away. We are fortunate that the bog owners down the street have permission from the cranberry grower's collective to sell a certain amount of berries direct from the bog each year. I swear these very fresh and juicy berries are more flavorful than anything I've found in the stores, fresh, frozen, canned, juiced, or whatever. If you can get your hands on some very fresh berries, do it!
Cooking with cranberries
Aside from cranberry sauce on Thanksgiving (and I have a fabulous cranberry sauce recipe on the way for Thanksgiving), there are many ways to use cranberries:
Use dried, sweetened cranberries in your everyday salad.
Add a handful of dried or fresh cranberries to an apple or pear pie - or even peach cobbler! - for a surprising and tart counterpoint. Not to mention pretty.
Use dried cranberries in place of raisins in just about any recipe.
Add frozen cranberries to muffins and breads.
Make a cranberry relish for use on pork and poultry year round.
Generally speaking, cranberries complement pork and poultry well, and are well complemented by orange. One of our favorite family recipes is pork chops with cranberry and orange.
Cranberry recipes
Cranberry baked beans
2 c cranberry sauce 1 (8 oz) can tomato sauce 2 (31 ox each) cans pork and beans, undrained 1 tbsp Dijon mustard 1/2 c chopped onion 6 strips bacon, halved 3 tbsp brown sugar Preheat oven to 350 degrees F. Combine cranberry sauce, tomato sauce, beans, mustard and onion in a greased 13x9x2-inch baking dish. Lay bacon on top and sprinkle with brown sugar. Bake for 1 hour.
Cranberry orange tart
1 c slivered almonds 1/2 c unsalted butter, cut into cubes 3/4 to 1 c brown sugar, divided 1-1/2 c all-purpose flour 1 egg 1/4 c orange juice 1 envelope unflavored gelatin 1 c orange marmalade 4-1/2 c fresh cranberries Preheat oven to 350 degrees F. In a food processor, pulse the almonds until they are finely ground. Add butter, 3 tablespoons packed brown sugar, 1 cup flour and the egg. Process until the mixture forms a ball. Add remaining flour and repeat. Press dough into 10-inch tart pan. Chill for 20 minutes. Bake 20 to 25 minutes or until edges are golden. Cool. In a saucepan, combine orange juice and gelatin and let stand 5 minutes until gelatin is softened. Stir over low heat until gelatin is completely dissolved. Add in 2/3 cup of the marmalade and 1/2 to 3/4 cup of brown sugar (depending on how sweet you like your tarts). Bring to a boil, then stir in the cranberries. Reduce the heat to a simmer, cover and cook for 10 minutes. Remove from heat and skim off any foam. Pour the mixture into the cooled crust. Chill several hours or overnight. Just before serving, melt remaining marmalade and brush over the top of the tart.