Delicious apple dessert recipes
Just when I think I've sampled all the ways to enjoy apples as dessert, there's something new or different. Apple desserts are truly versatile.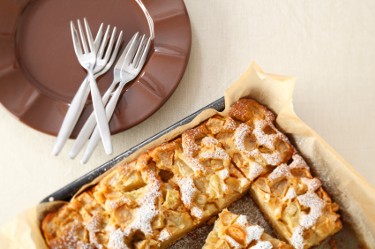 I'm talking about apple crisp, apple strudel, apple cookies, apple tart, apple bread pudding, fried apples, apple cheesecake and on and on and on. With so many ways to enjoy at least an apple a day, you are sure to keep the doctor away for years, if not a lifetime.
Delicious dessert recipes featuring apples
Apple Crepes
1 recipe crepes 3 to 4 Granny Smith apples, peeled, cored and sliced 1 tbsp unsalted butter 1 tbsp granulated sugar Handful of dried cherries Thin slices of brie Make the crepes as directed, stacking carefully on a plate. Cover with a towel to keep just slightly warm and set aside. In a large, wide frying pan over medium-high heat, melt the butter. Add the apples and saute for several minutes, stirring and tossing often. Add the cherries and saute 1 to 2 minutes more. Turn the heat to high and sprinkle in the sugar. Stir continuously until all the apples are lightly browned. Remove from heat. To assemble, place a couple of spoonfuls of the apple mixture in the middle of a crepe. Lay 2 to 3 slices of brie on top of that and carefully wrap up. Serve immediately. You can omit the brie and serve with whipped cream or change the dried cherries to almost any dried fruit you like.
Baked Apples
An impressive looking dessert for guests! 1 recipe pate sucre 4 large Gala or Rome apples 4 tbsp unsalted butter 4 tbsp brown sugar 2 tbsp dried cranberries Egg white Whipping cream Preheat the oven to 350 degrees F. Wash the apples and core them. They should be whole but with a hole in the middle. There are apple corers just for this purpose. Mix together the butter, sugar and cranberries. Roll out the dough into 4 large squares. Place an apple in the middle, and fill the hole in the apple with a quarter of the butter mixture. Some may spill out the top and that is okay. Bring all the corners of the pastry together at the top of the apple and pinch together. Then pinch together the adjacent edges of the rest of the pastry. Brush the pastry with the egg white. Carefully move apples to a baking dish. Bake 40 to 45 minutes, until the pastry is golden. Serve with softly whipped cream.
Apple Enchiladas
1 can apple pie filling, or the equivalent of homemade filling 6 (8-inch) flour tortillas 1 tsp cinnamon 1/2 c butter 1/2 c white sugar 1/2 c brown sugar 1/2 c water Preheat oven to 350 degrees F. Grease a rectangular baking dish. Place about 1/4 cup of pie filling evenly down the center of each tortilla. Sprinkle with cinnamon. Roll up, tucking in edges. Place seam-side down in prepared dish. In a medium saucepan over medium heat, combine butter, sugars and water. Bring just to a boil, stirring constantly. Reduce heat and simmer 3 minutes. Pour sauce over enchiladas and let stand 30 minutes. Bake 20 minutes, or until golden.
Caramel Apple Cake
1-1/2 c packed light brown sugar, divided 1/2 c vegetable oil 2 tsp cinnamon 1 tbsp + 1 tsp pure vanilla extract 2 large eggs 1/4 c milk 1-3/4 c all-purpose flour 1 tbsp baking powder 1/2 tsp salt 2 medium tart apples, peeled, cored and coarsely chopped 1/4 c unsalted butter 1/4 c heavy cream Pinch of kosher salt Whipping cream Preheat oven to 350 degrees F. Grease a 9-inch square baking dish. Beat together 1 cup of brown sugar, oil, cinnamon and 1 tablespoon vanilla. Add the eggs one at at time, mixing well after each addition. Beat in the milk, flour, baking powder and salt. The mixture should be blended, but be careful not to overmix. Fold in the apples. Bake 30 to 40 minutes. The center should spring back when lightly pressed in the center. Just before the cake is done, combine 1/2 cup brown sugar, butter, and cream in a heavy saucepan over medium hear. Bring to a boil. Reduce heat and let simmer, stirring constantly, for 5 minutes or so. Remove from heat and stir in 1 teaspoon vanilla and the pinch of salt. After removing the cake from the oven, use a fork to pierce the cake all over. Pour the hot caramel topping over the cake. Let cool a bit before serving with softly whipped cream.