Family-friendly pomegranate recipes
Gorgeous red orbs heavy with pert juicy little seeds, pomegranates can add vibrant color and abundant health benefits to your family's diet.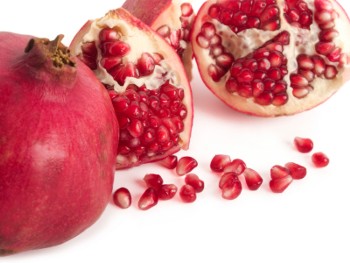 Pomegranates are healthy and versatile
Touted for their high antioxidant content, polyphenols and anthocyanins, pomegranates are associated with heart-health, reducing cholesterol plaque build up, slowing the progression of prostate cancer and boosting fertility. Pomegranate seeds can be used as garnishes, tossed with a salad or sprinkled on desserts. The ruby red juice can be consumed straight or easily transformed into vinaigrettes, marinades or sweet or savory syrups. An added bonus, you can give each of your kids half a pomegranate and have them dig out the sweet seeds instead of digging into a bag of candy after school. Pomegranates are in season from September through January, giving you the abundant opportunity to dress up your holiday dishes with both pomegranate seeds and juice. And when you can't nibble the fresh seeds, you can always opt for the sweet selection of pomegranate juices and teas available at your local supermarket and whole food stores. Here are three family-friendly recipes featuring this revered red fruit.
Pomegranate recipes
Pomegranate Ginger Muffins
Makes 12 Rise and shine to these unusual and delicious morning muffins. You can also make a flavored butter - by mixing minced candied ginger with softened butter - to make breakfast even more a treat (click for more flavored butters). This muffin recipe was inspired by POM Wonderful, the largest producer of pomegranates in the United States. Ingredients: 2 cups whole wheat pastry flour 1/2 cup sugar 2 teaspoons baking powder 1/4 teaspoon salt 1/4 cup chopped candied ginger 1 tablespoon orange zest, minced 1/2 cup pomegranate seeds (also called arils)* 1 cup milk 1 egg 1/4 cup (1/2 stick) butter, melted and cooled slightly Directions: 1. Preheat oven to 400 degrees F. Spray a 12-cup muffin pan with cooking spray. 2. In a large mixing bowl, mix flour, sugar, baking powder and salt. Stir in ginger, orange peel and pomegranate arils. Make a well in the center of the dry ingredients. 3. In a small mixing bowl, whisk together milk, egg and butter. Pour milk mixture into well. Stir just until batter is moistened and ingredients are well-combined. 4. Evenly distribute batter into muffin pan. Bake for 15 to 20 minutes or until lightly browned. Let muffins cool in pan for 10 minutes before removing. *A tip from POM Wonderful: To extract seeds, score 1 fresh pomegranate and place in a bowl of water. Break open the pomegranate underwater to free the arils (seed sacs). The arils will sink to the bottom of the bowl and the membrane will float to the top. Sieve and put the arils in a separate bowl. Reserve 1/2 cup of the arils for muffins. Refrigerate or freeze remaining arils for another use.
Quinoa Pomegranate Salad
Serves 4 Simple and satisfying, this salad delivers whole-grain goodness with a tasty combination of textures. Add crumbled feta or goat cheese for a change. Ingredients: 2 cups cooked quinoa 1/2 cup pomegranate seeds 1/2 cup chopped toasted pecans 1/4 cup chopped radishes 3 tablespoons minced fresh parsley 1 tablespoon minced fresh mint Juice and zest (chopped) of a half a lemon 2 tablespoons pomegranate juice 2 tablespoons olive oil 1/4 teaspoon curry powder Salt and pepper to taste Directions: Mix quinoa, pomegranate seeds, pecans, radishes, parsley, and mint in a large bowl. In a small bowl, whisk together lemon juice and zest, pomegranate juice, olive oil, curry powder, and salt and pepper. Pour over quinoa and toss to combine. Refrigerate for a couple of hours to overnight to allow the flavors to meld. Rewarm and serve or enjoy as a chilled grain salad. More quinoa recipes!
Broiled Chicken with Pomegranate Sauce
Serves 4 Make broiled chicken breasts even more succulent with a sweet pomegranate sauce. Serve chicken with a vegetable and a side of rice or pasta. Ingredients: 1/4 cup olive oil 1 tablespoon minced garlic 4 skinless chicken breasts, bone in, ribs attached 1 pomegranate 1/4 cup dry white wine Juice and zest of a small orange 1 teaspoon ground cinnamon 1/4 teaspoon ground cloves 1 tablespoon brown sugar Salt and pepper to taste Directions: 1. Set oven broiler on high and set an oven rack to the lower third of oven. In a small bowl, whisk together oil and garlic. Using a pastry brush, coat chicken with garlic oil. 2. Place chicken on a roasting pan wiped with oil or sprayed with cooking spray. Broil for 25 to 30 minutes or until chicken is cooked through and juices run clear. 3. Half pomegranate and remove 2 tablespoons of seeds, reserving for garnish. Using a citrus juicer, squeeze juice from pomegranate halves. Pour through a sieve into a small saucepan. 4. Add wine, orange juice and zest, cinnamon, cloves, and sugar to the pomegranate juice, stirring to combine. Bring to a boil over high heat. Reduce heat to low and cook, stirring occasionally, for 5 minutes. Season with salt and pepper. 5. Transfer chicken to a serving platter and pierce each piece with a knife. Pour sauce over chicken and allow to sit for 5 to 10 minutes. Garnish with pomegranate seeds and serve.