A few cooking fundamentals to make your holiday dishes even more delicious
Holiday dishes are often heirloom recipes passed down from generation to generation, with techniques learned from watching our parents or grandparents. With the melding of families through marriage and other relationships, we pick up a few new holiday recipes - or twists on traditional dishes - that then get passed down the family legacy of holiday fare.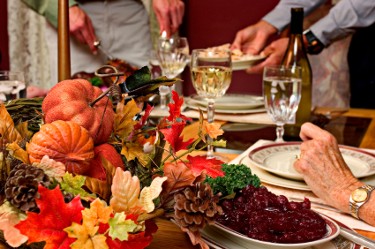 Easy inventive ways to brighten up your holiday fare
If you are a tad bored with your usual holiday dishes, here are a few cooking fundamentals that can breathe delicious life into your holiday recipes and brighten up your holiday table. You can still preserve the special place those heirloom recipes hold in your family but add an inventive twist that your kids can pass down to their families.
Roasted garlic
Makes about 1 cup
Intoxicating in aroma and taste, tender cloves of roasted garlic can be whipped into dynamite dips, spread on bruschetta or used to make intensely delectable garlic bread, mashed into potatoes or pureed into salad dressings.
Ingredients
5 heads of garlic, kept whole Olive oil Salt and pepper, if desired
Directions
Preheat oven to 375 degrees F. Using a sharp knife, cut the pointed tip off the head of each garlic, slightly exposing the individual cloves, and rub away most of the papery skin. Keep the garlic heads whole and place in a baking dish.
Drizzle with olive oil and season with salt and pepper. Cover dish with aluminum foil and roast for 35 minutes. Remove foil and continue to roast for 10 to 15 minutes or until cloves are soft and extremely fragrant. Squeeze garlic cloves into a dish to cool. Roasted garlic can be refrigerated in an airtight container for up to 4 days.
Herb vinaigrette
Makes about 1 cup
If you grow your own herbs, you have a plentiful and fresh array of different herbs to use in this easy vinaigrette recipe. And if there is a particular herb you don't have, take advantage of the readily available selection of fresh herbs at your local supermarket. Drizzle vinaigrette on salads, roasted or steamed veggies, broiled fish or chicken, or use as a marinade for meats and poultry. Substitute different vinegars and oil and add finely chopped nuts for a festive change.
Ingredients
1/4 cup white wine vinegar
2 tablespoons freshly squeezed lemon juice
1/2 teaspoon salt or to taste
Freshly ground black pepper to taste
Pinch of sugar 1/4 cup minced fresh herbs or your choice: basil, parsley, cilantro, tarragon, thyme, dill or others
2/3 cup extra virgin olive oil
Directions
Combine all ingredients in a mason jar or cruet, cover, and shake vigorously. Use immediately or refrigerate for up to a week.
Berry compote
Makes about 2 cups
Instead of cranberry sauce out of a can, bring this berry sauce to the table. Sweet and colorful, you'll love spooning it over slices of roast turkey, sweet potatoes or even ice cream. For an innovative superfood twist, use dried goldenberries, goji berries or mulberries - check with your local whole food store or order online at Navitas Naturals.
Ingredients
1 cup dried berries: blueberries, cherries, cranberries, raisins or other dried fruit
1 cup freshly squeezed orange juice
1 cup fresh berries: blueberries, raspberries, boysenberries or mixed
3 tablespoons agave nectar or honey
1 cinnamon stick 1 tablespoon brandy, optional
Directions
Soak dried berries in orange juice for at least 2 hours or overnight. In a nonreactive saucepan over medium low heat, bring dried berries (with the juice) and fresh berries to a simmer. Simmer for 15 minutes or until fruit is softened.
Strain berry mixture, saving liquid and fruit. Pour liquid into saucepan over low heat and stir in agave nectar or honey, cinnamon stick and brandy, if using. Raise heat to medium and bring to a boil. Cook, stirring for 2 to 3 minutes. Remove from heat and add berries, stirring to combine. Serve warm or cool completely and refrigerate in an airtight container for up to 1 week.
Perfectly whipped cinnamon cream
Makes about 1 cup
Aerosol-spray whipped cream might be convenient but it is far inferior to homemade whipped cream, particularly when it's warmly spiced with cinnamon. Since it typically tops already-sweet desserts, this recipe doesn't add sugar to the cream. Feel free to whip in some powdered sugar, if desired.
Ingredients
1/2 cup heavy whipping cream, chilled
1/2 teaspoon ground cinnamon
1/2 teaspoon pure vanilla extract
Directions
Before you start whipping, place the bowl of a standup mixer or metal mixing bowl in the freezer or refrigerator to chill. Pour cream into cold bowl and beat with the whisk attachment or hand mixer until cream begins to thicken and expand in volume.
Add cinnamon and vanilla and continue to beat until soft to firm peaks form. Beat to firm peaks if making ahead a few hours and keep refrigerated until ready to use. Be sure to not overbeat.
Candied orange zest
Makes 1 cup
Beautiful and sweet, candied orange zest can garnish just about any holiday dish - it's also good for snacking on with freshly shelled toasted nuts. For a change, add chopped candied zest to cake or quickbread batters, stir it into cranberry sauce, or use in turkey stuffing. Since this recipe uses only the peel, reserve orange segments for juice, marinade, vinaigrettes, fruit salad or dessert.
Ingredients
6 oranges, washed and patted dry
1 cup sugar
1/2 cup freshly squeezed orange juice
Directions
Using a vegetable peeler, remove the zest (colored part of the peel) avoiding the bitter white pith. In a saucepan over medium-high heat, bring 3-1/2 cups water to a boil. Add zest and reduce heat to medium-low. Simmer for 5 to 7 minutes. Drain zest into a colander, spread zest on paper towels, and squeeze dry with additional towels.
In a saucepan over medium heat, whisk together sugar and orange juice. Cook, stirring until sugar melts. Quickly add the zest and reduce heat to medium-low. Continue to stir frequently until the zest becomes glazed, about 10 minutes. Use a slotted spatula or spoon to remove zest and transfer to a wire rack to cool completely. Zest can be refrigerated in an airtight container for up to two months.
---
More From SheKnows Explorer
---
---