When apples star: Main dishes and side dishes
I've discussed varieties of apples and apple snacks and appetizers. Now it's time to showcase apples in main dishes and side dishes.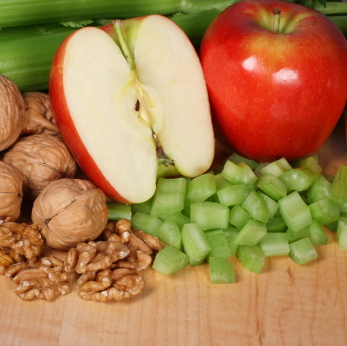 Apples with entrees and side dishes
When thinking about apples in main dishes, they seem to go best with pork and chicken. "Pork chops and applesauce" may have been repeated ad nauseum by Peter Brady (yes, I'm dating myself here), but the combination is ubiquitous for a reason. That said, trying apples in a new way can yield wonderful results. For example, there are several brands of chicken and apple sausages on the market - and they are delicious on a bun like a regular hot dog, as well as in other recipes. And don't forget that apple soup can serve as an excellent main dish, especially with a loaf of crusty bread and a salad. One of my favorite main dishes is Apple Chicken. With side-dishes, apples tend to work well with the onion family, from caramelized sweet onions to leeks. Have you ever tested the theory that apples and onions taste the same if you hold your nose? While it never worked for me, it does give a good indication that the two pieces of produce might work well together in other applications. In side dishes, apples also pair nicely with winter squash and sweet potatoes.
Roast pork with sweet potatoes and apples
1 boneless pork loin roast, 3 to 4 pounds, fat trimmed 1 tbsp vegetable oil 1/3 c honey 1/4 c orange juice 1/4 c frozen apple juice concentrate, thawed 2 tsp ground black pepper 1 tbsp brown sugar, packed 3 large sweet potatoes, quartered 3 large apples, cored and quartered Preheat the oven to 375 degrees F. Coat a large ovenproof pot (with a lid) with vegetable oil and place over medium-high heat. When very hot, add the pork roast. Sear the pork on all sides until browned, about 6 minutes. Remove from heat. In a medium bowl, combine the honey, orange juice, apple juice concentrate, pepper and brown sugar. Spoon over the pork roast. Place the sweet potatoes around the pork. Cover and bake for 2 hours. Pork should register about 150 degrees F. on an instant-read thermometer. Place the apple quarters around the pork. Bake, uncovered, basting frequently for 20 minutes, or until the apples are just tender. Let the pork stand for 10 minutes before slicing. Serve pork roast sliced, with the sweet potatoes and apples.
Grilled sausages with caramelized onions and apples
6 sweet Italian sausages 2 tbsp butter 2 medium onions, halved and sliced 3 large apples, peeled, cored, and cut into thin wedges 2 tbsp apple cider or red wine vinegar 2 tbsp brown sugar, packed Salt and pepper to taste Poke the sausages several times with a fork. Place in a pot, cover with water, and simmer over medium-high heat until cooked through, about 7 minutes. Remove from heat, and slice into medallions. If you would like, before slicing, toss them on the grill for a few minutes. Melt butter in a skillet over medium heat. Stir in onions, and cook until soft and translucent. Stir in apples, vinegar, brown sugar and the sausages. Cook, stirring gently, until caramelized, about 10 to 15 minutes.
Curried apple and leek soup
1 tbsp butter 2 tsp curry powder 3 leeks, chopped 3/4 c diced potatoes 2 Granny Smith apples, peeled, cored and chopped 3 c vegetable broth Salt and pepper to taste 1/4 c plain yogurt In a medium saucepan over medium heat, melt butter. Stir in curry powder and cook 1 minute. Stir in leeks, potato and apples and cook 5 minutes. Pour in broth and bring to a boil. Cover, reduce heat and simmer 20 minutes. Puree in the pot using a hand blender. Season with salt and pepper and serve with a swirl of yogurt.
Sauteed apples and leeks
2 tsp unsalted butter 2 large leeks, thinly sliced 2 apples, cored and thinly sliced In a large skillet over medium heat, saute the leeks in half of the butter until soft, about 3 to 5 minutes. Remove leeks from the pan and set aside. In the same pan, saute the apple slices in the other half of the butter over high heat until lightly golden brown, about 3 minutes. Season with salt and pepper if desired. Toss the apples and leeks together and serve hot.
Pea and apple salad
2 cups frozen green peas, lightly cooked and drained 1/2 c thinly sliced celery 1/2 c unpeeled chopped red apple 2 tsp minced sweet onion 3 tsp mayonnaise 3 tsp sour cream or plain yogurt Grated or shredded cheese Combine peas, celery, apple and onion in a medium bowl and stir gently. Set aside. In another bowl, whisk together mayonnaise, sour cream and cheese. Pour over pea mixture, tossing gently. Cover and chill for an hour or two before serving.
Other ways to use apples in main dishes and side dishes
Add dried apples to bread stuffing
Add slices of fresh apple to chicken salad sandwiches
Shred apples into your favorite coleslaw recipe
Puree shredded apples with onions and mix into meatloaf
Grill chicken and apple sausages