Versatile apples: Appetizers, beverages and snacking
The apple festivals have started. Every weekend for the next three weeks, we can visit a different orchard for different festivities. Each orchard specializes in different varieties of apples, so it's a great time to try one dish with different apples and decide which you like best.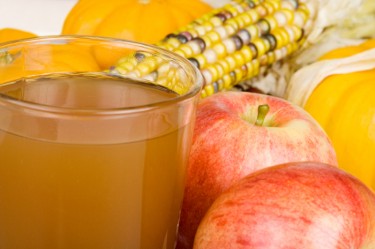 Apples are ultra-versatile
Apples are more than just for snacking and dessert recipes. They make interesting appetizers, too! Apples pair well with cheese and sausages, as well as with many spices. Consider the following recipes as just a starting point for coming up with your own apple appetizer combinations. You could even have a cocktail party with apples as the star ingredient! Apple appetizers, mulled apple cider, apple martinis - yum. Don't forget to invite a teacher!
Apple and brie appetizers
4 tbsp unsalted butter, melted 1/2 c brown sugar 1/3 c coarsely chopped walnuts One baguette, sliced thin on the diagonal One small round of brie, cut into thin slices Several green apples, cored and sliced thin Combine the butter, brown sugar and walnuts. For each slice of bread, place a slice of apple on the bread, top with the butter mixture, then put a slice of brie on top of that. Broil for just a couple minutes, until the cheese melts and bubbles - but be careful that it doesn't burn. Serve immediately.
Avocado Apple Salsa
2 apples, cored and diced 1/2 ripe avocado, peeled and diced 1 tbsp diced green onion (white and green parts) 1 tsp chopped fresh cilantro leaves 1 tsp granulated sugar 1 tsp fresh lime juice 1/2 tsp minced jalapeno pepper (optional) 1/4 tsp minced garlic Dash pepper Serve with tortilla chips or even on a burger.
Apple, prosciutto and cheese skewers
Several slices of prosciutto 2 tart apples, peeled, cored and diced Several slices of Havarti or Swiss cheese Wrap strips of the prosciutto around the cubes of apple, then a strip of cheese around that. Poke a toothpick through the cube to secure them.
Mulling spices for apple cider
6 whole cardamom pods 1 tbsp whole cloves 1 tbsp whole allspice 1 tsp orange peel 12 whole cinnamon sticks Break open the cardamom pods and remove the seeds. Combine the seeds with the cloves, allspice and orange peel. Place 2 teaspoons of the mixture, including two cinnamon sticks, in a bit of cheesecloth and tie them up. In a pot, combine a quart of apple cider with a bag of mulling spices and simmer for 20 minutes. Allow to cool slightly before serving. The leftover mulling spices can also be used in cranberry juice or red wine.