The lightest, fluffiest pancakes I've ever tried
Last weekend, the kids asked for pancakes for breakfast. This is not an unusual request - we have pancakes most weekends. We have our standard recipe (based on the recipe in Joy of Cooking) and I was ready to get started on it, but as I made my way to the kitchen, I wondered if I could find a recipe for sour cream pancakes. We had some sour cream in the fridge leftover from another recipe and we have sour cream waffles, so why not pancakes?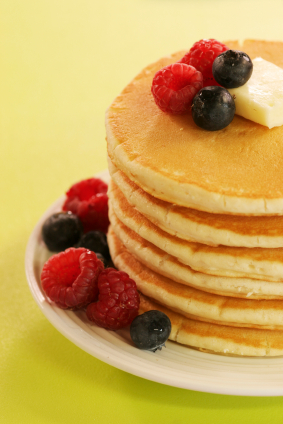 Superlative
sour cream pancakes
I went searching for a pancake recipe and found one - and as luck would have it, I had the buttermilk the recipe called for, too. So I went to work with what turned out to be one of our favorite breakfast recipes. The batter was lumpy at first. I was trying not to over mix (one of my typical baking errors), but it seemed off. In trying to make the best of the already-made batter, I went ahead and started frying up the pancakes. I wasn't optimistic. Oh my goodness! These pancakes are so light and fluffy! The lumps didn't matter, either. The kids loved them. I loved them. They are a delicious reason to keep sour cream AND buttermilk in the house. Seriously. So if you're short on breakfast ideas, don't despair! Keep reading...
Light and fluffy sour cream buttermilk pancakes
2-1/2 c flour 1/4 c granulated sugar 2 tsp baking powder 2 tsp baking soda 1 tsp salt 2 c buttermilk 2 c sour cream 2 large eggs 2 to 4 tsp vanilla extract (depending on your preference) Whisk together the flour, sugar, baking powder, baking soda and salt. In a separate bowl, whisk together the buttermilk, sour cream, eggs and vanilla until smooth. Make a well in the center of the dry ingredients and pour in the wet ingredients. With quick strokes, bring together the wet and dry ingredients. Try not to over mix - the batter will be - should be - lumpy! Cook the pancakes as you would any other pancake and serve with your choice of toppings.