ChefMom approved: Healthier kid-friendly snack foods
Though you'd love for your kids to munch mostly on fresh fruit and vegetables for snacks, it is inevitable that they will also grab packaged snack foods that may or may not be the healthiest choices. Instead of banning packaged snack foods from your kitchen (your kids will simply find them elsewhere), keep a stock of healthier goodies to feed their mid-afternoon hunger. Here are a few of ChefMom's favorite snack ideas.

Kopali Organics Fair Trade Dried Fruit and Chocolates
Want to give your kids a naturally sweet snack that is free of oil, sulfites, sugar and chemicals? Kopali Organics has four dried fruits to choose from: mango, pineapple, mulberries and goldenberries. And if you want to give your kids a chocolatey treat, Kopali Organic's dark chocolate covered bananas, mulberries and goji berries are organic and Fair Trade certified (good for the environment and the farmers) and high in antioxidants (good for you and your kids). "Kopali's organic and Fair Trade dried fruits and chocolates are nutrient-dense, energy-packed, delicious tasting treats that actually nourish and energize you! But that is not enough. They are also always grown organically free of harmful chemicals supporting the ecosystems that support all life on our planet. We believe snacks can only be 'good' if they are good for you AND good for the planet," says Zak Zaidman, co-founder and co-CEO of Kopali Organics. Available at Whole Foods Market and Wild Oats. All Kopali Organic product will soon be available on Amazon.com and other online stores. Visit KopaliOrganics.com for more information and additional organic Fair Trade certified products.

FruitaBu Organic Smooshed Fruit
"A new way to eat fruit and have fun at the same time" is FruitaBu's smooshed fruit philosophy. The fruit roll-ups of yesterday have been upgraded to organic and all-natural fruit snacks that contain no added artificial sweeteners, flavors or preservatives. Each FruitaBu Fruit Roll provides a 1/2-serving of fruit while one FruitaBu Fruit Flat provides a full serving. With fruit puree as the first ingredient on the label, FruitaBu Organic Smooshed Fruit products are over 90 percent real fruit and fruit juice. Choose from apple, grape or strawberry FruitaBu Twirls or apricot, apple, grape, strawberry or raspberry FruitaBu Flats. Check FruitaBu.com to order online or use the website's store locator to find a retail outlet near you.
Super Soynuts (sweet)
Mmmm, chocolate, yogurt or rainbow (chocolate-covered with a colorful candy shell), sweet soynuts are a healthier choice compared to candy bars and junk food. And you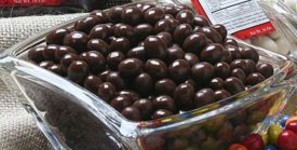 can always opt for the plain roasted or salted soynuts, if you are trying to reduce your family's carb or sugar intake. Soynuts are a great source of B-vitamins, iron, zinc and antioxidants as well as isoflavones and other phytochemicals. Soynuts provide a high-quality complete protein and are a good source of fiber and polyunsaturated fats. In addition to being high in good for you fats, soynuts are also cholesterol- and trans-fat-free. (Try to find another "candy" that is this nutritious!) However, as with any food, moderation is key - one serving of sweet soynuts has 150 to 200 calories (most candy bars have more). Soynuts are available in health food stores and supermarkets, or you can order online at BestSoyNuts.com. To read about the additional health benefits of soynuts, visit Soynuts.com.
Theo Dark Chocolate Origin Bars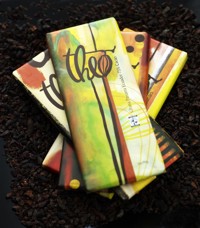 (This exquisite chocolate is more for mom than the kids!) When your kids are munching on their mid-afternoon snacks and you need a satisfying bite of a sweet something, savoringly sink your teeth into a piece of Theo's exquisite, organically-grown dark chocolate. Seattle-based chocolatier Theo Chocolate has a variety of dark chocolate bars that range from 65 to 91 percent cocoa content. Additionally, these dark chocolate bars are vegan, soy-free and sweetened with organic beet sugar grown in Sweden. Available at a variety of health food stores nationwide. Visit TheoChocolate.com for additional products and more information. And if you are in the Seattle area, you can also take your kids to tour the chocolate factory.
GlutenFreeda Ready to Bake Real Cookies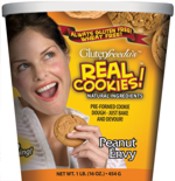 If your kiddo has celiac disease or is sensitive to gluten, GlutenFreeda's Real Cookies are ready to bake and are sure to satisfy an after school sweet tooth. Enjoyed fresh from the oven, there are six different cookie varieties (with kid-friendly names) to choose from: Snicker Poodles, Sugar Kookies, Chip Chip Hooray, Peanut Envy, Chocolate Minty Python and Peanut Paul & Mary. GlutenFreeda Real Cookies come in a resealable container you keep in the freezer (you can bake one or a dozen). Simply place the pre-portioned rounds of dough on a cookie sheet and bake according to package directions. Cookies are made with natural ingredients, are free of hydrogenated oil and trans fats, and they contain no GMO ingredients or hormones. Available at Whole Foods and a variety of other health food stores nationwide. Visit GlutenFreeda.com to order online or find a store near you. The GlutenFreeda website has a large variety of other gluten-free products and gluten-free recipes for every meal of the day.

Popchips
This new and tasty snack defies the concept of potato or corn chips. Not only are Popchips made of all natural ingredients but compared to other chips, they are also lower in fat and calories. Best yet, you can buy them in one-ounce bags for perfect portion control. One serving of Popchips - which is a generous 22 chips - has 120 calories and no saturated or trans fats or MSG. Instead of being fried or baked (like many new healthier chips), Popchips are literally popped, using heat and pressure - making them the healthier snack grab. Popchips come in five potato chip flavors (original, barbecue, salt & pepper, sea salt & vinegar and parmesan garlic), three corn chip flavors (cheddar, sea salt and salsa), and a rice chip hot with wasabi. Available at Whole Foods, Costco and many major supermarkets, or you can order online at Amazon.com. Visit Popchips.com for more information.