Meal plan: Week of September 28
A Nor'easter and absent-mindedness changed some of our plans last week. I'd forgotten to marinate the chicken for Thursday, so we moved Friday's meal to Thursday. By mid-Friday afternoon the storm has started, outdoor picnics for the weekend were canceled, as were soccer games and just about everything else for the next several days. Friday evening ended up being a mish-mash of pizza at friends' houses for the boys and leftovers for the rest of us (amid trying to make the best of the weather) - and we finally had Thursday's meal on Saturday.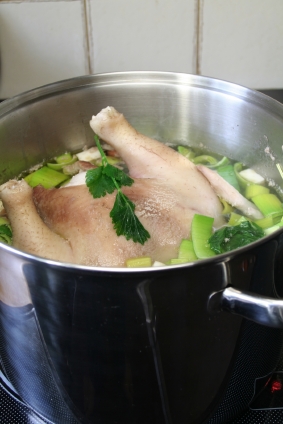 Meal planning with easy to make comfort food
Adding to the craziness, my husband is on an awful schedule at work for the next couple of weeks, so I'm essentially a single parent for the next bit doing meal planning solo. Sunday: Chicken soup with rice*, fresh bread and salad. Using the chicken carcasses off which we've been picking. Monday: Grilled marinated beef and veggie wraps, salad. Like our summer beach meal, but at home. Amazing. A month ago, the kids were sick of this meal - and now they love it again. They say it reminds them of summer. Tuesday: Leftovers. It's not exciting, but it's necessary, especially on this busiest day of our week. Wednesday: Pasta with Alfredo sauce for the kids, wild mushroom risotto for the parents I try to keep a jar of Alfredo in the pantry for the occasional fast treat - not the healthiest sauce around, but fine on occasion and used somewhat sparingly. The parents' meal may or may not happen, depending on when my husband actually gets home. If it's particularly late, then we'll just have leftovers. As much as I enjoy risotto, I don't enjoy eating anything at 10:30 at night. Thursday: Paradise pasta - with sausage. This is one of those meals I can get creative with. The recipe is just the base idea for me and I add other ingredients as I feel like it. I picked up some chicken mango sausage that we like and I'll add it in this time. Friday: Homemade pizza. As if we need an excuse to make more mozzarella. With some local tomatoes, fresh basil (not to mention the homemade dough)...it's going to be a very fresh pizza. Saturday: Slow-roasted country styles ribs over rice, vegetable, salad. Everyone really liked this meal when I made it a couple of weeks ago - and the ribs are on sale again. Chicken soup Chicken carcass 1 onion, quartered 2 stalks of celery, sliced in 2-inch chunks 3 carrots, peeled and cut into large chunks 1 bouillon cube Place the chicken carcass in a large pot with the onion, celery, carrots and bouillon cube. Cover with water and bring to a boil over medium heat. Reduce the heat and let simmer, covered, very gently for up to 2 hours. Skim off any foam that develops at the surface. Turn off the heat and let cool. Carefully strain out the chicken carcass and veggies into a colander-lined bowl, leaving the broth in the pot. Allow broth to cool a few more minutes. As the broth cools, fat will rise to the surface. Skim off as much of this fat as you can. By hand, strip the carcass of all remaining meat and return the meat to the pot. Then chop the veggies and return to the pot. Discard the chicken bones. Gently return the soup to a simmer and season with salt and pepper to taste. Add a cup of rice, if desired, and allow it to cook in the soup. Serve with slices of fresh bread for some serious comfort food.