Healthy, kid-friendly lunchbox drinks
You've read countless articles on healthy lunchbox foods for your kids and you've made sure that the lunches you pack are fun and yummy enough that your kids aren't trading or tossing them. But have you considered the health of their midday drink? Fruit juices are often fruit-flavored drinks, carbonated beverages are chockfull of sugar and calories, and it is near impossible to get your child to drink plain water. Well, good news for you, there is a new array of healthy, kid-friendly lunchbox drinks that will not only quench your child's midday thirst, they also provide a healthy, tasty alternative to empty-calorie drinks.S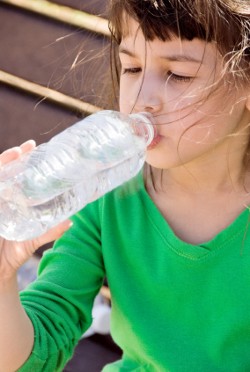 Froose Juice
Imagine a lunchbox drink as healthy as eating a whole piece of fruit. Froose juice is an innovative new beverage for children that combines the best of organic whole grains and fruit to make a delicious and nutritious lunch drink. This refreshing juice is gluten-free, kosher certified, naturally low in sugar, made with organic ingredients and is a good source of fiber (three grams per serving). One serving is only 80 calories. Sweetened with organic rice syrup, Froose comes in three kid-friendly flavors: Cheerful Cherry, Perfect Pear and Playful Peach.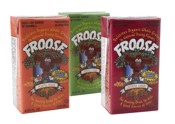 Retail: $30 for 40 (4.23-ounce) drink case Available at Froose.com Froose also has a daycare/preschool program that provides quantity discounts.
Lightfull's Satiety Smoothies
Packing five grams each of protein and fiber, Lightfull's Satiety Smoothies are satisfying alternatives to sugar-laden juice drinks. With just 90 calories per serving, Satiety Smoothies offer 100 percent natural ingredients that are gluten-free and low-glycemic. Even better, each smoothie is an excellent source of calcium and inulin - a prebiotic fiber that feeds probiotics (the good intestinal bacteria) that bolster immunity and increase nutrient absorption. Available in kid-friendly flavors - Mango Oasis, Strawberry Bliss, Peachy Cream and Chocolate Satisfaction - drinking a Satiety Smoothie at lunch can help prevent your children from getting a convenience store snack attack later in the day.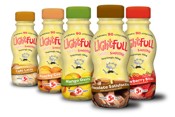 Retail: $2.79 per 8.25-ounce bottle Available at fine grocery stores and natural foods stores throughout the U.S. in the "grab and go" refrigerated beverages sections or on-shelf near aseptic dairy products and soy milk as well as online at LightfullFoods.com.

San Francisco Chocolate Company's got milk? Chocolate Straws
Turn a calcium-rich serving of milk into a chocolatey treat with these convenient mess-free straws filled with yummy chocolate beads. All your kids have to do is sip the milk through the straws for a fun and healthy treat. Each straw adds a mere 27 calories and may be the perfect lunch accessory to get your kids to opt for bone-building milk instead of carbonated beverages. Retail: $3.99 for 10 straws Available at SFChocolate.com
Other kid-friendly lunchbox drinks
Plain water or water flavored with fresh-squeezed lemon, lime or orange juice
Plain, vanilla and chocolate soy milk
V-8 100% Vegetable Juice
100% juice combined with seltzer
Fresh fruit and/or vegetable juice from a home juicer
Just keep in mind - if the healthy lunchbox drinks you choose don't come in single serving containers - a serving size for your children is four to eight ounces, depending on their age. Too much of any drink can add unnecessary calories to your child's diet.