Make-ahead brunch recipes: Savory bread pudding, raised cinnamon and brown sugar waffles, and yogurt and muesli
Though brunch seems most popular during the spring and summer months, having a lazy Sunday morning meal with the family can be enjoyed any time of the year. In fact, with school in full swing, finding family time can be a weekly challenge. Gathering around a warm and filling weekend meal will give you a chance to deliciously reconnect. Even better, with these make-ahead brunch recipes, you can assemble them Saturday night and give yourself an extra hour to sleep in on Sunday morning.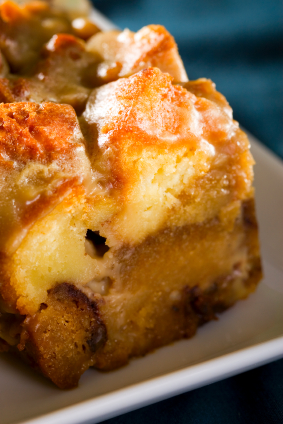 Make-ahead brunch recipes
Savory Bread Pudding Serves 6 to 8 Bread pudding is typically studded with fruit and exudes super sweetness. This recipe puts a tasty savory spin on it - flavorful turkey sausage, baby spinach, sun-dried tomatoes and fresh herbs makes it heartier and healthier. Assemble the ingredients Saturday evening and bake Sunday morning Ingredients: 6 eggs 1 cup milk 2 tablespoons Dijon mustard Salt and pepper to taste 1/2 cup chopped fresh parsley 6 to 7 slices whole grain seeded bread, cut into cubes 4 cups baby spinach leaves 1/2 cup finely chopped sun-dried or oven-dried tomatoes packed in olive oil 2 to 3 turkey sausage links, chopped 1 cup crumbled feta Directions: 1. Spray a 9x13-inch glass baking dish with nonstick cooking spray and set aside. In a large bowl, whisk together eggs and milk. Whisk in mustard, salt, pepper and parsley. Add bread, spinach, sun-dried tomatoes and sausage, stirring to combine. Pour mixture into baking dish and use your hands to push mixture down and soak bread. Sprinkle with feta cheese. Cover with foil and refrigerate overnight. 2. To prepare, set baking dish on counter while you preheat oven to 375 degrees F. Bake for 35 to 40 minutes. Uncover and bake for 15 to 20 minutes more. Bread pudding is done when custard is set, the top is puffy and cheese is lightly browned. If custard isn't set, continue to bake for 5 to 10 minutes more, taking care to not burn the feta. If necessary, cover the dish loosely with foil. 3. Remove from oven and let set for 5 to 10 minutes. Cut into large squares and serve with orange marmalade. Raised Cinnamon and Brown Sugar Waffles Serves 4 to 6 Raised waffles are a special treat if quick weekday breakfasts are usually toaster waffles. Letting the waffle batter sit overnight gives waffles a made-with-love flavor. Top with fresh fruit puree and yogurt or even whipped cream. Fancy French toast is another fabulous brunch dish, if your family wants more than just waffles. Ingredients: 1/2 cup warm water (about 110 degrees F.) 1 package dry yeast (about 1 tablespoon) 1 teaspoon sugar 2 cups milk at room temperature 1/4 cup melted butter 2 cups whole wheat pastry flour 1 teaspoon ground cinnamon 1/4 cup brown sugar 2 eggs, lightly beaten Directions: 1. Put water, yeast and sugar in a large mixing bowl and let sit for 10 minutes. Yeast will bloom and mixture will get frothy. Stir in milk, butter and flour and mix until smooth. Cover bowl with plastic wrap and let stand at room temperature overnight. 2. When ready to make waffles, stir in cinnamon, brown sugar and eggs, mixing until smooth. Heat waffle iron and make waffles according to manufacturer's directions. Serve warm. Note: You can also make extra or freeze leftovers once they are cool. These waffles make the best homemade toaster waffles! Overnight Yogurt and Muesli Serves 4 Oats, dried fruit and nuts soaked overnight in yogurt becomes a satisfying morning meal, whether it's for a lazy Sunday brunch or breakfast to start a busy weekday. And muesli is ready to eat as soon as you get up - no prep involved. For a change, create your own muesli renditions with different types of fruit, nuts and flavored yogurts. If you like muesli, you can also try your hand at making your own granola. Ingredients: 1 cup plain yogurt 1 cup 100 percent orange juice 3/4 cup old-fashioned rolled oats (not quick-cooking) 2 tablespoons dried cherries 2 tablespoons raisins 2 tablespoons chopped dried apricot 2 tablespoons shelled sunflower seeds 1/4 cup whole raw almonds 1 tablespoon wheat germ 1 tablespoon agave nectar or honey 1/4 teaspoon almond extract Pinch of salt or more to taste Directions: Combine all ingredients in a bowl, cover with plastic wrap and refrigerate overnight. When ready to serve, simply divide into bowls and enjoy. You can also serve topped with fresh fruit and an extra sprinkling of nuts.