Camp breakfasts: Starting the day off right
Every day is Sunday when we are in camp, and we cook breakfasts accordingly. Breakfasts are substantial, and enjoyed - not only because we enjoy that kind of breakfast, but also because a healthy and hearty breakfast will carry us through our busy, activity-filled days outdoors.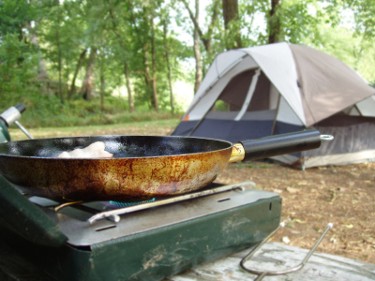 Careful planning results in delicious and quick camping breakfasts
As with camp dinners, we plan carefully and prepare as much as we can in advance, mindful of precious cooler space. We try to get fresh (and hopefully local) produce and perishables as close to our campsite as possible and shop very carefully so we aren't carrying more than we have to. Our camp breakfasts as planned for this trip are as follows:
Cornmeal pancakes with pine nuts
Bacon and eggs, wrapped in tortillas for some
Yogurt and homemade granola
Slow-cooked Irish oats with dried fruit
Omelets
Prepack your breakfast ingredients
The granola, of course, is made in advance and brought in an airtight container. For the cornmeal pancakes, I assemble the dry ingredients at home in a resealable bag, and place the toasted pine nuts in their own small bag. I write down the rest of the recipe on a piece of scrap paper and put it inside the bag. I'm not good at remembering the number of eggs needed for a recipe first thing in the morning. For the Irish oats I measure out the exact quantity we'll cook -- with the amount of milk and water required written on a piece of paper in the plastic bag with the oats. The dried fruits I'll be using are also in their own bag, but only because the general supply of dried fruits tends to be fair game for healthy snacking. The egg dishes, of course, require fresh eggs. Our last breakfast of the trip is always a mish-mash of an omelet, using up the last of whatever cheese, sometimes some bacon, sometimes salsa, and sometimes other bits. We leave camp with an absolutely empty cooler. Cornmeal pancakes with pine nuts Generous handful of pine nuts, toasted 3/4 c flour 1/2 c cornmeal 1 tbsp sugar 3/4 tsp baking powder 3/4 tsp salt 2 tbsp unsalted butter, melted 2 large eggs 1-1/4 c milk, slightly warmed Vegetable oil Combine the flour, cornmeal, baking powder and salt. Carefully combine the melted butter, eggs and flour so as not to curdle the eggs with the heat of the butter, or turn the butter into solid on contact with colder ingredients. Use the vegetable oil - sparingly - to lubricate the pan. Pour out large spoonfuls of batter onto the heated pan, and sprinkle in some pine nuts. Continue to cook as you would any pancake. Slow-cooked Irish oatmeal with dried fruit 1 tbsp unsalted butter 1 c steel-cut Irish oats 3 c water 1 c milk 1 c mixed dried fruit, such as raisins, cherries, cranberries, other berries, apples, apricots, papaya or other preferred fruits. In a large saucepan over medium-high heat, melt the butter. Pour in the oats and stir to coat. Let toast, stirring frequently, for about 5 minutes. The oats will give off a nutty aroma. Lower the heat and carefully add in the water and milk. Allow to simmer uncovered for 30 minutes. Add in the fruit, and let simmer another 10 to 15 minutes, until the oats are al dente and thick. Serve with a little brown sugar sprinkled over the top. You can also pour just a little milk over it, too.