Got buttermilk? Try these delicious recipes!
Buttermilk isn't just for fluffy yummy pancakes or crispy fried chicken. This cultured dairy product can be used in a delicious array of sweet or savory dishes. The next time you have buttermilk left over, try one of these creative recipes featuring buttermilk.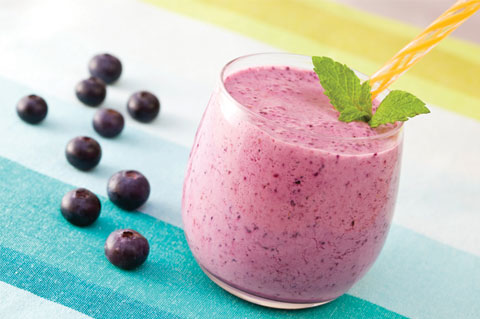 What makes buttermilk special?
Buttermilk is a fermented dairy product with a distinctive — but delightful — sour flavor. In addition to being an invaluable ingredient in many recipes (to add moistness and flavor), buttermilk is also lower in fat and calories than regular milk and is a good source of potassium, vitamin B12 and calcium. Even better, buttermilk is easier to digest than whole milk.
Make your own buttermilk
If you don't have buttermilk on hand, you can make your own. Simply add 1 tablespoon lemon juice or vinegar and 1-3/4 teaspoons cream of tartar to 1 cup of regular milk. Let mixture, also called sour milk, stand for 10 minutes before using. This method can also be used with soy milk or rice milk if you are following a dairy-free diet.
Tasty ways to use buttermilk
You can use store-bought buttermilk or homemade buttermilk to reduce the fat and add moistness to many of your baked goods by substituting equal portions of buttermilk for oil or butter in cake or quick bread recipes. Make healthy mashed potatoes by using buttermilk instead of butter and cream or milk. Substitute buttermilk for regular milk or for part of the cream called for in chilled soup recipes. Make a sweet tart smoothie by using buttermilk instead of yogurt. Simply do a search for "buttermilk recipes" on the internet for additional buttermilk recipe ideas.
Buttermilk recipes:
Buttermilk berry flax shake
Makes 2
Ingredients:
1 cup buttermilk
1 cup mixed berries
A few drops of almond extract
Handful of ice cubes
1 tablespoon ground flax
Agave nectar or honey to taste
Directions:
Place ingredients in a blender and puree until smooth.
Serve in 2 tall chilled glasses.
Roasted pepper corn chowder
Serves 6
Ingredients:
6 cups fresh corn kernels (or frozen, thawed) 
1 cup buttermilk
1/2 cup yogurt
1/3 cup chopped red onion
1 teaspoon ground cumin
1/2 teaspoon ground coriander
Pinch of cayenne pepper
Pinch of salt or more to taste
1 cup roasted red peppers, from a jar, chopped
1 ripe tomato, seeded, chopped
3 green onions, thinly sliced
Directions:
Place 4 cups corn kernels, buttermilk, yogurt, red onion, cumin and coriander in a blender and puree until smooth (or to your desired consistency).
In a medium-sized bowl, toss together remaining corn kernels, cayenne pepper, salt, peppers, tomato and green onions.
Mound vegetable mixture in the center of 6 serving bowls. Ladle soup around vegetables and serve.
Tip: To serve warm, combine vegetables and buttermilk mixture in a large saucepan and heat, stirring, over medium heat until hot (do not boil) and serve.
Fettuccini edamame
Serves 6
Ingredients:
1/2 cup vegetable broth
1/4 teaspoon fine sea salt
2 cups edamame (fresh shelled soybeans), steamed or boiled until tender
1 cup buttermilk
8 ounces fettuccini, cooked al dente (tooth-tender but not mushy) 
1 cup edamame
1/4 teaspoon fine sea salt
1 cup baby spinach leaves
1/2 cup fresh basil leaves
Ground black pepper to taste
Directions:
In a blender, puree vegetable broth, salt and steamed edamame until smooth. Set aside.
In a large saucepan or stockpot over moderate heat, stir together buttermilk, fettuccini, edamame and salt.
Bring to a simmer, and then reduce heat to medium-low, cover and cook until edamame is just tender, about 2 minutes.
Stir in edamame puree and spinach leaves, cover and cook for 30 seconds or until spinach is just wilted, about 30 seconds.
Remove from heat and stir in basil and season with pepper. Serve immediately.
More recipes with buttermilk
Buttermilk pastry recipe
Winter salad with buttermilk dressing recipe
Blueberry and lemon-scented buttermilk pancakes recipe