Creative and healthy alternatives to pasta: Sauteed vegetable ribbons, tuscany spaghetti squash and cauliflower orzo
Whether you are looking to strategically increase your family's vegetable intake or are interested in ways to reduce carbs or cook gluten-free, creatively substituting vegetables for pasta is a delicious solution.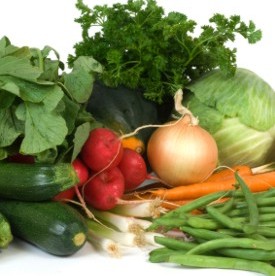 It's all in the preparation
If your family balks at steamed vegetables or refuses to eat anything green that isn't swimming in butter or blanketed with melted cheese, the following healthy recipes can help you keep your cool and improve their veggie opinions. Steaming vegetables is healthy, easy and basically bland. However, by peeling vegetables into ribbons with a vegetable peeler or even shredding vegetables, you can make "mock" pasta to toss with a tasty assortment of ingredients that will present beautifully and be just as satisfying.
Mock pasta recipes
Sauteed Vegetable Ribbons Serves 4 Colorful and elegant, vegetable ribbons are more nutritious than pasta and have more eye-appeal. This simple dish is flavored with seasoning and Parmesan, but you can also toss with tomato sauce for a change. Ingredients: 2 carrots, ends trimmed 2 small zucchini, ends trimmed 1 crookneck squash, ends trimmed 1 tablespoon olive oil 1 tablespoon butter Salt and black pepper to taste 1/2 teaspoon dried Italian seasoning 1 heaping tablespoon minced fresh parsley Freshly grated Parmesan cheese Directions: 1. Using a vegetable peeler, "peel" carrots, zucchini and squash into long ribbons. Heat olive oil and butter in a large nonstick skillet or stockpot over medium-high heat. Add vegetables and season with salt, pepper and Italian seasoning. 2. Using tongs, toss vegetable ribbons to evenly coat with oil, butter and seasonings. Cook, tossing frequently, for 7 minutes or until vegetables are tender and cooked through. Add parsley and toss again. Serve warm with Parmesan cheese. Tuscany Spaghetti Squash Serves 4 to 6 Spaghetti squash is a nutritious replacement for regular pasta. Not only does it supply extra vitamins and minerals, it is filling and quite versatile. Once you have a spaghetti squash cooked, use the shredded flesh for any number of recipes calling for spaghetti or angel hair pasta. Ingredients: 1 medium-sized spaghetti squash 1/2 cup sun-dried tomatoes, packed in olive oil, drained, chopped 1/2 cup roasted red peppers, from a jar, chopped 1 cup pitted olives 2 tablespoons olive oil 3 garlic cloves, thinly sliced 1/4 cup minced onion Pecorino-romano cheese 6 fresh basil leaves, rolled into cigars lengthwise, sliced very thin crosswise Directions: 1. Preheat oven to 375 degrees F. Poke holes in the spaghetti squash with a fork and place on a baking sheet. Bake in oven for 35 minutes or until squash gives when pressed. Remove from oven and set aside to cool slightly. 2. Use a sharp knife to slice squash in half lengthwise. With a serrated spoon, remove seeds and strings in the center of each squash half. Use a large fork to shred squash flesh into "spaghetti." Place shredded squash in a large bowl. 3. Add sun-dried tomatoes, roasted peppers and olives to the squash. Toss to coat. In a small skillet, heat olive oil over medium heat and add garlic and onion. Cook, stirring often, for 1 to 2 minutes or until garlic is just starting to turn golden. Remove immediately. 4. Add garlic onion mixture (including olive oil) to bowl with vegetables and toss to coat. Add cheese and toss again. Serve immediately garnished with basil. Cauliflower Orzo Serves 4 to 6 Orzo is a rice-shaped pasta that is often used in soups or as a side-dish. Despite looking like rice, it is actually made of semolina pasta flour. Substituting shredded cauliflower is a delicious way to increase your family's vegetable intake as well as cut down on carbohydrates. Ingredients: 1 medium-sized head cauliflower, cut into large chunks 1 tablespoon olive oil 1/2 cup finely chopped pancetta 1 clove garlic, minced 1/2 cup finely chopped red onion 1 cup shelled peas (thawed, if frozen) Black pepper to taste 1/2 cup crumbled feta or Gorgonzola cheese 1 heaping tablespoon minced fresh tarragon (or 1 teaspoon dried, crumbled) Directions: 1. Using a food processor fitted with the medium-sized shredder blade, shred cauliflower (it will resemble rice). Place in a microwave-safe container (do not add water), cover loosely and microwave on HIGH for 3 to 4 minutes or until cauliflower is tender. Set aside. 2. In a large saucepan or stockpot, heat olive oil over medium-high heat. Add pancetta and cook, stirring, for 1 minute. Add garlic and onion and cook, stirring for 2 minutes. Add cauliflower and peas and cook, stirring, until peas are heated through. Season with pepper. 3. Transfer cauliflower mixture to a large bowl and toss with cheese and tarragon. Serve immediately.