Kids in the kitchen: A twelve year old makes dinner
The other day my oldest son (he's 12) wanted to make dinner. He wanted to do it all by himself and he wanted to come up with the menu, too. Would I take him to to grocery store? Yes, I said, but I will admit I was a touch hesitant. Turns out I didn't need to be.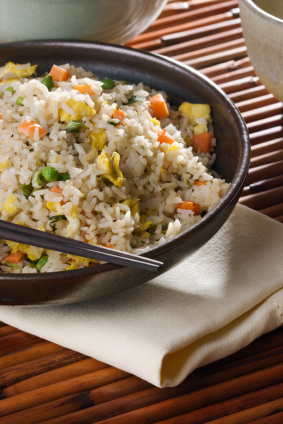 Foster your child's creativity in the kitchen
At the grocery store, my son asked some questions and together we came up with some ideas. One definitely stuck. Pineapple mango fried rice. Even I had to admit it sounded good. And it was pretty good. And pretty. I admit I did insist that the rice part of this meal be brown rice, for just a touch more nutrition. And I helped my son with a few small things, but really, it was all him. He chose the ingredients, prepared them (with supervision), and put them all together in the pan. He did a good job. Cooking with kids is fun!
My son's pineapple mango fried rice
This isn't real Chinese fried rice. It's definitely interpreted - but makes some yummy comfort food, regardless.
Ingredients
1 to 1-1/2 c brown rice
1/4 to 1/2 c chopped pancetta
1 small pineapple, chunked, or one or more cans pineapple chunks (to taste)
1 mango, chopped into small dice
1 red bell pepper, chopped into medium dice
1 c frozen corn
2 eggs beaten
Soy sauce
Canola or sesame oil
Directions
Prepare the brown rice according to package instructions. Let cool. In a wok or large wide frying pan, heat a tablespoon or so of oil. Add the pancetta and let cook 4 to 5 minutes.
Add the pineapple, mango, pepper and corn and saute until the edges start to caramelize slightly.
Remove from the pan and keep warm.
Scramble the eggs in the same pan, and remove to the same dish that is holding the pancetta mixture. Add a little more oil, then add the rice to the pan and fry for a minute or two, moving the rice around a lot.
Add soy sauce to taste, then add back the egg and the pancetta mixture and toss to combine for about a minute. Serve immediately with extra soy sauce.