Breakfast pizza recipes
A week or so ago, I bought some pizza dough in anticipation of a possible glitch in the meal plan. Then I forgot about it.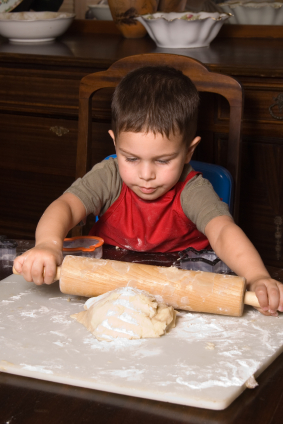 A week or so ago, I bought some pizza dough in anticipation of a possible glitch in the meal plan. Then I forgot about it.
Kid creativity in the kitchen
On Saturday morning, my oldest son found that package of pizza dough trying to explode out of the packaging. While it did not succeed in that effort, the dough clearly needed to be used up, and quickly. Enter kid creativity. The boys looked around the kitchen for a few minutes. They dug through the fridge and pantry and surveyed the counter tops. Then they announced that we would be enjoying fruit pizza for breakfast. I sat back and let them at it, and happily so. I am not a morning person. Aside from sliding the pizza in and out of the oven, the creation was all theirs. And it was delicious. While we ate, we brainstormed different breakfast pizzas. The options are many, and seat of the pants creativity and adventurousness trumps formal recipes. Have fun!
Basic Instructions for breakfast pizza
Preheat oven to 450 degrees Fahrenheit. Roll or stretch out the pizza dough and place it on a pizza peel sprinkled with cornmeal. Make sure the dough will be able to slide off the peel! Brush or spread some sort of lubricating ingredient on top of the pizza. This could be maple or flavored syrups, butter or some other relatively liquid ingredient. Place other toppings on top of this. Slide into the hot oven and cook for 7 to 10 minutes. Carefully remove, let cool for a few minutes, then slice it up. Have fun!
Variations on the breakfast pizza
Fruit pizza Fruit syrup, such as raspberry or blueberry, or even preserves Sliced fruit, such as peaches, plums, nectarines and bananas Brown sugar lightly sprinkled on top. Apple pie pizza Melted butter Apples, peeled, sliced and tossed with brown sugar Raisins (optional) Shredded cheddar cheese sprinkled on top Huevos rancheros pizza Salsa Scrambled eggs Refried beans (optional) Cheddar cheese sprinkled on top Garnish with sour cream and avocado when out of the oven. Bacon and egg pizza Melted butter or bacon drippings Scrambled eggs Crumbled bacon Shredded swiss cheese sprinked on top Omelet pizza Melted butter Scrambled eggs Omelet ingredients of your choice Shredded cheese of your choice sprinkled on top PointsandPrizes.com Keyword: BACON worth 50 points good through 08/15/08. Not a member? Join Points and Prizes now for more free stuff!