An unexpected treat: Red currants
Until recently, my only exposure to currants was the dehydrated form in scones. Nothing wrong with that, but I was missing out on a real treat.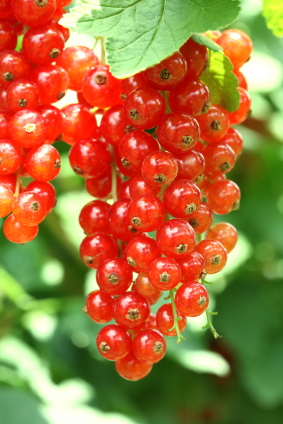 Plump, red, beautiful currants
When my husband planted a couple of red currant bushes in the yard early last year, I thought, um, fine, whatever. But as those berries began to develop this spring and slowly ripen this summer, I watched with eager anticipation. The sprays of berries are just plain beautiful, plump and red and glistening beneath the leaves. To think they were edible, too, was a bonus. The red currant is native to Europe, as evidenced by the several European cultures that have developed recipes that showcase this lovely berry. The currant is not only uncommon in North America, most local(ish) recipes I have found rely on the dried version, not fresh. That's too bad, because it's a lovely berry. The currant is more tart than sweet, but has a distinctive, intriguing flavor.
The many ways to enjoy fresh ripe red currants
Since we in North America don't have recipes with fresh red currants as part of the vernacular, what do you do with fresh currants if you have them? So, so many things:
Cook them down with some sugar to make a sauce for everything from waffles to ice cream
Whip up some red currant jelly
Make summer berry pudding
Add red currants to bread pudding
Add a few to any dessert recipes that feature raspberries, really. Currants bring out the flavor of raspberries wonderfully
Toss a few into your green salad along with some goat cheese and slivered almonds
Use them in place of blueberries in muffins
Make a cool summer soup featuring currants
They are a lovely complement and garnish for poultry, especially duck
And, if you must, use a dehydrator to dry the currants for use in scones
This weekend we will be going to a family gathering and will see a cousin we have not seen in years. I have been charged with bringing dessert. I intend to bring blueberry pie and summer berry pudding. I'll also bring a selection of plain berries for nibbling throughout our time together.
Recipes featuring currants
Summer berry pudding 6 1/2 cups mixed berries, preferably equal parts raspberries and red currants 1 c sugar Large loaf of firm white bread, about a pound, cut into even slices and crusts removed Line a souffle dish with plastic wrap (there should be bits hanging over the sides), then line it, bottom and sides, with slices of bread, overlapping them slightly. Cut the slices of bread as necessary for an even layer around the dish. In a saucepan over medium heat, combine the berries and sugar. Cook about five minutes, until the berries release their juices but still have some shape. Let cool. Carefully spoon the berries and juice into the bread-lined mold and cover with the remaining pieces of bread. Lap the excess wrap over the top of the bread-lined berries. Place the dish in a shallow bowl. Place a plate, or some other flat element that can press down on the pudding, on top of the dish, then place something heavy on top of that. Put in the refrigerator at least overnight. To unmold, remove the weights, carefully peel back the plastic wrap and gently turn over onto a serving plate. Remove all the plastic wrap. Serve sliced with a dollop of whipped cream. A little kirsch or even Chambord stirred into the simmering berries would add to this dish, as would grated lemon peel added to the whipped cream. Currant scones 1 3/4 c sifted flour 2 1/4 tsp baking powder 1 tbsp sugar 1/2 tsp salt 1/4 butter, chilled and cut into small bits 2 eggs 1/2 c cream 1/2 c dried currants. Preheat the oven to 450 degrees F. Whisk together the flour, baking powder, sugar and salt. Sprinkle the bits of butter over the surface of the dry ingredients. Cut the butter into the flour mixture using a pastry cutter or a couple of forks. When fully cut in, the mixture will resemble coarse meal. In a separate bowl, beat the eggs lightly, then beat in the cream. Save 2 tbsp of the egg-cream mixture. Make a well in the flour-butter mixture. Pour in the egg-cream mixture and stir with a fork with a few swift strokes to incorporate. When this process is about half done, add the dried currants. Turn the mixture out onto a floured board and knead just enough to bring the dough together. Be careful not to overmix! Pat into a 3/4-inch thick round and place on a baking sheet. With a bread knife, cut the dough three times almost - but not quite - all the way through, making six wedges. Brush with the remaining egg-cream mixture and sprinkle with some coarse sugar. Bake 15-18 minutes. Red currant soup 1 lb red currants 1/2 c sugar 2 c water 2 c light cream or creme fraiche Mint leaves for garnish Put the currants through a sieve or juicer to extract all the juice. Meanwhile, heat the water and sugar until the sugar dissolves. Let cool. Combine the currant juice and sugar solution. Whisk in the cream. Serve chilled, garnished with mint. This soup would also be good with a splash of white wine.