Fourth of July family picnic menu
What better way to spend the 4th of July with your family than at a park or beach enjoying a mouthwatering picnic meal. These family-friendly meal ideas can be assembled the day before, chilled in the refrigerator and easily toted to your Independence Day locale.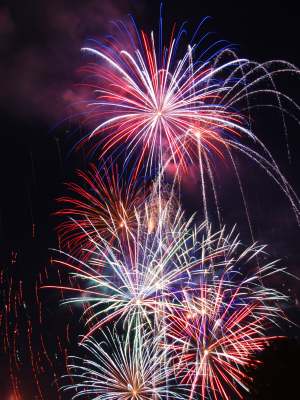 And if these recipe ideas don't make your mouth water, you can always pack your basket with sandwiches, pilaf, salad and your choice of dessert. You can also try this grilled vegetarian menu if you are trying to reduce your meat consumption.
Vegetarian Wrap Appetizers
Serves 4
These scrumptious appetizers are ideal for an outdoor meal. They are easy to make and easy to eat mess-free.
Ingredients
1 (8-ounce) package cream cheese, softened at room temperature
1 cup pitted olives, chopped
1 cup diced, seeded cucumber
2 tablespoons finely chopped basil
1 teaspoon balsamic vinegar
4 (8-inch) Tumaro's Sun-Dried Tomato and Basil tortillas
Thin slices of provolone cheese
Red leaf lettuce
Directions
Beat cream cheese in a stand-up mixer, fitted with a paddle attachment, until smooth. Add olives, cucumber, basil and balsamic vinegar and mix to combine. Evenly spread on tortillas, leaving a 1-inch border around the edges.
Cover cream cheese mixture with a thin layer of provolone and top with 1 to 2 lettuce leaves (making sure lettuce is smaller than the area spread with cream cheese mixture). Roll into logs and place seam-side down in a large plastic container. Cover and refrigerate for a couple of hours or overnight.
When ready to serve, remove wraps from the plastic container and use a sharp knife to cut wraps crosswise into 2-inch disks. Place on a serving plate for easy snacking.
Grilled Vanilla Spice Chicken
Serves 4
An unusual but incredibly tasty grilled chicken dish that your whole family will love.
Ingredients
1 (20-ounce) Vanilla Coke or Pepsi Vanilla
1 cup store-bought or homemade BBQ sauce
4 skinless chicken breasts, bone-in and ribs attached
Directions
Pour coke and BBQ sauce in a large plastic container, stirring to combine. Place chicken in container and refrigerate for 2 hours or up to overnight.
Preheat grill to medium-high heat. Use an oiled rag and tongs to grease the grate. Remove chicken from marinade, discarding marinade and place on grill. Cover grill and cook for 10 minutes. Flip chicken and cook, covered, until juices run clear, about 10 minutes.
Remove from grill and tent with foil for 5 to 10 minutes to let the juices redistribute. Serve warm.
Note
If your picnic spot doesn't have a grill and you aren't taking your own, these juicy delicious chicken breasts can be broiled in the oven for 20 to 25 minutes. Wrap them tightly in foil before you head out and pack them away from the cold foods. The foil will keep them moist and warm for a couple of hours. Worst case scenario, you may have to eat these a tad on the cool side.
Chickpea Stuffed Tomatoes
Serves 4
Instead of packing an extra set of bowls to your picnic, sink your teeth into these chickpea stuffed tomatoes, no bowls required.
Ingredients
4 large beefsteak tomatoes
1 cup canned chickpeas or garbanzo beans, rinsed
2 tablespoons lite mayonnaise
1 tablespoon minced fresh parsley
Salt and black pepper to taste
Store-bought or homemade honey mustard salad dressing
Directions:
Use a sharp knife to core the tomatoes, making a 2-inch round hole at the top of each tomato. Use a spoon to remove the seeds without damaging the tomato flesh (the tomatoes will be your serving bowls) and set aside.
In a medium-sized bowl, mix chickpeas, mayonnaise, parsley, salt and pepper. Add just enough honey mustard dressing to coat. Use a spoon to stuff tomatoes with chickpea mixture. Place tomatoes in a plastic container, cover and refrigerate for a couple of hours up to overnight. Serve chilled.
Independence Day Angel Food Fruit Dessert
Serves 4
This is a quick dessert that commemorates the day with red, white and blue.
Ingredients
1 store-bought or homemade angel food cake, cut into slices
1 cup strawberry or cherry preserves
Juice of an orange 1/2 (8-ounce) container whipped topping
1 cup fresh blueberries
1 cup strawberry slices or pitted cherry halves
Directions:
Place slices of angel food cake on the bottom of an 8-inch square baking dish.
In a small bowl, whisk together preserves and orange juice.
Spread preserves evenly on angel food cake. Top with whipped topping.
Decoratively arrange blueberries and strawberries or cherries on the whipped topping. Cover and refrigerate for a couple of hours or up to overnight. Serve chilled.