Roasted sweet potato salad with onions and feta
This flavorful sweet potato salad makes a unique side dish. It also made a light and delicious vegetarian supper the next day!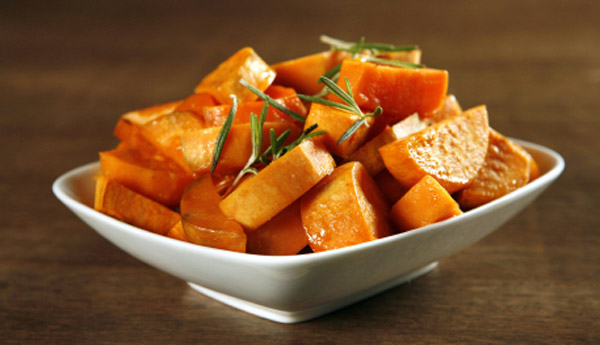 This week our CSA bounty included four tender new sweet potatoes. My husband typically (irrationally!) hates sweet potatoes, but our friendly CSA farmer girl enclosed a recipe for this unique vegetarian salad that I just HAD to try. With so many layers of strong flavors, I thought maybe he could enjoy sweet potatoes prepared this way. At least, I decided, that if he didn't like sweet potatoes with FETA, then I would be sadly convinced that he's never going to like sweet potatoes. So, we had this for dinner Friday night with steak and butterflake rolls. The verdict? My husband said, "You could almost fool me into thinking these are NOT sweet potatoes!" He liked it! He ate it! He also grilled a whole jalepeno when he was grilling the steak and sliced some of that up into the salad. If hot and spicy is your thing, he thought it was a great addition. We also thought this recipe would work well with red skin potatoes or beets.
Roasted Sweet Potato Salad with Onions and Feta
2 cloves garlic, crushed 2 teaspoons cumin 2 teaspoons paprika 1/2 cup olive oil 1/4 cup lemon juice Salt and pepper to taste 1 large red onion, cut into wedges 3 lbs small sweet potatos, cut into wedges 3/4 cup (loosely-packed) coarsely torn flat-leaf parsley 2 tbsp thinly sliced preserved lemon rind (optional) 2/3 cups crumbled feta Preheat oven to 400F. Combine crushed garlic and spices into a paste. Add 1/4 cup olive oil and 1/8 cup of lemon juice and season to taste with salt and pepper. Place onion and sweet potato in a large bowl with the garlic and spice mix and toss to coat evenly.  Place the potato and onion mixture on a parchment paper-lined baking sheet and roast for 20-30 minutes or until vegetables are tender. Cool vegetables for approximately 15 mnutes and place in a large bowl. Add parsley and preserved lemon to sweet potato mixture and toss to combine. Combine remaining olive oil and lemon juice in a bowl, season to taste, add feta and mix to combine. Drizzle over sweet potato and toss to coat.