Kid-friendly quinoa recipes: Apricot quinoa cereal, sesame orange quinoa salad and quinoa turkey burgers with easy guacamole
White rice is out; brown rice is getting old, yet you still need a healthy whole grain to round out your meals. Why not try the nutrient-rich goodness of quinoa?
What is quinoa?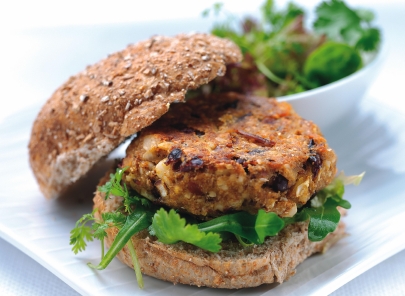 Quinoa, pronounced KEEN-wa, is one of the oldest grains, originating in the Andean region of South America over 5,000 years ago. The Incas, who held the crop to be sacred, referred to quinoa as "chisaya mama" or "mother of all grains." And with good reason - quinoa provides the nutritional value of meat (without the saturated fat) and is packed with complex carbs, iron, fiber, magnesium and calcium. Best yet, quinoa is gluten-free and lacks the allergy potential of many modern-day grains like wheat. Quinoa has survived for centuries because it is a hardy little grain. Unlike other grains, it thrives in harsh, high-altitude conditions and is considered a sustainable crop. Another naturally protective property of quinoa is that it is coated with a substance called saponin, which makes the grain bitter and unpalatable to birds and other animals. However, once cultivated, rinsing the quinoa in water before cooking will remove any lingering bitterness.
Quinoa is a mom's friend in the kitchen
Keep a few boxes of quinoa in your pantry for quick meals. It takes less time to cook than brown or wild rice and it is nutritionally superior when compared to white rice. As a bonus, your kids will think it is "cool" because every cooked translucent grain has a little white tail. Quinoa cooks in 15 minutes, has a delectable nutty flavor, and can be used in place of all other grains. Try quinoa for breakfast as a hot cereal in place of oatmeal. In addition, if you have a baby who has transitioned to soft solids, substitute quinoa for rice ceral. Toss quinoa with crisp-tender vegetables, juicy fruits, nuts, crumbled cheese or lean proteins for a near endless array of cold or warm salads and side-dishes. Use it in place of rice for holiday stuffings or other stuffed dishes, like stuffed eggplant, mushrooms or bell peppers. Mix quinoa with mashed beans or ground meats to make a healthy hamburger, meatloaf or meatballs. Quinoa is also milled into quinoa flour, which can easily replace white flours in your baked goods. You can find quinoa in the grain section of most supermarkets and both the whole grain and flour can be found at health food stores. Give this ancient, nutrient-rich grain a try. Here are three recipe ideas to get you started.
Kid-friendly quinoa recipes
Breakfast
Apricot Quinoa Cereal Recipe courtesy of Northern Quinoa Corporation Serves 4 Instead of boring porridge, let your kids start their day with a bowl of protein-rich naturally sweetened quinoa hot cereal. The millet adds a fun buttery taste in this dish but if you don't have any on hand, replace with a like amount of quinoa. Ingredients: 1 1/2 cups water 1 cup apricot nectar 1 cup chopped dried apricots (or other dried fruit) 1/2 teaspoon ground cinnamon 1/2 teaspoon ground mace 1/2 cup quinoa, rinsed 1/2 cup millet 1/4 cup cottage cheese 2 tablespoons maple syrup Directions: 1. In a medium-sized saucepan, bring water, apricot nectar, apricots, cinnamon and mace to a boil. Add the quinoa and millet and reduce the heat to a simmer. 2. Partially cover the pan and cook until the liquid is absorbed and the grains are tender, 15 to 20 minutes. Press the cottage cheese through a sieve into a small bowl (to give it a creamier texture) and stir in the maple syrup. Transfer hot cereal to serving bowls and swirl the cottage cheese into each bowl. Serve warm.
Lunch
Sesame Orange Quinoa Salad Serves 4 Sandwiches are an easy fix for lunch but this flavorful and nutritious quinoa salad can be quickly made on Sunday and served as lunch for Monday or Tuesday. The varied textures and tastes will be a slam dunk for your little ones. For an even quicker dish, substitute Drew's Sesame Orange Dressing for the tahini orange dressing in this recipe. Ingredients: 2 tablespoons tahini* or peanut butter 2 tablespoons orange juice 1 tablespoon apple cider vinegar Salt and black pepper to taste 1 cup quinoa, rinsed 2 cups vegetable broth or water 1 large navel orange, peel removed, diced 1 small cucumber, halved, seeded, diced 1/4 cup finely chopped red onion 2 heaping tablespoons finely chopped fresh cilantro 2 tablespoons sesame seeds Directions: 1. To make a dressing, whisk together tahini or peanut butter, orange juice and vinegar in a small bowl. Season with salt and pepper to taste and set aside. 2. In a small saucepan, combine quinoa and broth or water. Bring to a boil over medium-high heat, cover, reduce heat to low and simmer until water is absorbed and quinoa is translucent with a white ring, about 15 minutes. Remove from heat and set aside. 3. In a large bowl, combine orange, cucumber and red onion. Add quinoa and toss ingredients until well combined. Drizzle with tahini dressing and toss ingredients to coat. Sprinkle with cilantro and sesame seeds and serve. Salad can be served warm or refrigerated and served cold. *Tahini is sesame seed paste used commonly in hummus and nutty sauces. You can find it next to the nut butters at health food stores and most supermarkets.
Dinner
Quinoa Turkey Burgers with Easy Guacamole Serves 4 This is a delectable combination of meat and grain topped with a dreamy guacamole. Avocados are rich in flavor and a tasty source of healthy unsaturated fat. For an added health bonus, garnish the burgers with fresh flat-leaf parsley or cilantro leaves. Herbs and spices are considered superfoods, providing a significant amount of antioxidants and, best yet, unbeatable flavor. Ingredients: 1/2 cup quinoa, rinsed 1 cup chicken broth 1/2 pound lean ground turkey 1 egg, beaten Salt and pepper to taste 1 avocado, halved, pitted 1 tablespoon lemon juice 1 Roma tomato, coarsely chopped 1/4 small red onion, coarsely chopped Fresh flat-leaf parsley or cilantro leaves Directions: 1. Bring quinoa and chicken broth to a boil in a saucepan over medium-high heat. Reduce heat to a simmer and cook for 15 minutes or until liquid is absorbed and grains are translucent. Transfer to a large bowl to cool. 2. Add turkey, egg, and salt and pepper to the quinoa and use your fingers to combine. Form into four patties and refrigerate while you make the guacamole. Preheat your indoor or outdoor grill (or broiler). 3. In a food processor, blend avocado, lemon juice, tomato and onion until slightly chunky. 4. Grill or broil burgers until cooked through or to desired doneness. Serve on a whole grain bun or enjoy open-faced topped with guacamole.