10 Healthy vegetarian snacks
If you're considering a vegetarian lifestyle or just want to incorporate more fruits and vegetables into your family's diet, these healthy vegetarian snacks can give you a tasty transition.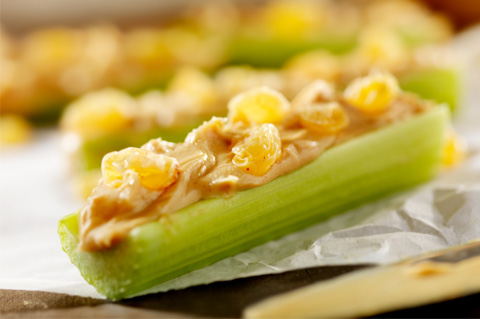 These easy-to-make (and completely customizable) vegetarian snacks will come in handy whether you need an after-school snack for the kids or just a road-trip munchy the whole family will love. Do yourself a favor: Print this list to keep on the fridge so you'll always have a healthy, go-to snack.
Ants on a log recipe
Ingredients:
Celery, rinsed and cut into short stalks
almond, cashew or peanut butter
Dried blueberries, cranberries or raisins
Directions:
Spread nut butter generously into the groove of the celery.
Dot with a line of dried fruit.
Baked yam chips recipe
Ingredients:
Sweet potatoes or yams
Salt to taste
Directions:
Preheat the oven to 350 degrees F.
Thinly slice the sweet potatoes or yams and place them on a baking sheet, topping with a bit of salt.
Bake for 20 to 25 minutes or until cooked through and crisp.
Add additional salt to taste.
Carrot sticks with hummus recipe
Ingredients:
1 can garbanzo beans, rinsed
Fresh lemon juice
Fresh herbs of your choice
Minced garlic
Carrot sticks
Splash of water or olive oil
Directions:
In a food processor, puree the garbanzo beans with the lemon juice, fresh herbs, garlic (and any other spices you enjoy).
Add a little water or extra virgin olive oil to thin the hummus to your desired consistency.
Dip carrot sticks into the hummus and enjoy!
Edamame snack recipe
Ingredients:
1 bag frozen edamame
Sea salt to taste
Directions:
Thaw or quickly boil the edamame.
Serve with a light sprinkling of sea salt
Granola recipe
Ingredients:
Rolled oats
Nuts of your choice
Dried fruit of your choice
Small amount of honey
Vegetable oil
Directions:
Preheat the oven to 350 degrees F.
Toss rolled oats, nuts and dried fruit with some honey and a little vegetable oil and spread the mixture onto a baking sheet.
Bake for 25 to 30 minutes or until ingredients are crunchy.
Mochi wrap recipe
Ingredients:
Directions:
Toast the mochi in the oven or in the toaster according to package directions until crispy.
Wrap nori around the mochi and serve with soy sauce or chili paste.
Rice cakes with nut butter recipe
Ingredients:
Rice cakes
Almond butter or peanut butter
Directions:
Spread a tablespoon of almond or peanut butter on a plain rice cake.
Organic fresh fruit and yogurt recipe
Ingredients:
Organic fresh fruits (i.e., apples, nectarines, etc.)
Your favorite flavor yogurt
Granola (recipe above)
Directions:
Slice your organic fresh fruits into bite-sized pieces.
Serve on a platter with a cup of yogurt and granola for dipping.
Ball of nuts recipe
Ingredients:
1 cup dried dates, soaked in hot water to soften
1 cup rolled oats
1 cup almonds
1 cup sesame seeds
1 cup apple juice
1 cup brown rice syrup
1 cup poppy seeds
Directions:
In a blender, pulse until the mixture is made up of small chunks.
Roll into small balls and refrigerate until you're ready to eat them.
Guacamole with jicama sticks recipe
Ingredients:
1 avocado
1/4 cup red onion
1/4 cup tomato
Up to 1 jalapeno, seeded
1 tablespoon fresh cilantro, chopped
Lime juice to taste
Sea salt to taste
Jicama, cut into strips
Directions:
Puree avocado, red onion, tomato, jalapeno, cilantro, lime juice and sea salt until chunky.
Serve with jicama.
More vegetarian snack ideas
Vegetarian snack recipes
8 Easy-to-tote vegan travel snacks
7 After-school snack ideas with veggies