To wrap or not to wrap: Chicken salad on the go
Now that little league baseball season is here, we are eating on the go several nights a week. It's this time of year that I bring out my chicken salad recipes, look for boneless skinless chicken breasts on sale and start improvising. Dinner in wrapped form seems to be the most doable for us: it's so portable that the kids can conveniently eat dinner while sitting on a swing at the playground next to the baseball diamond.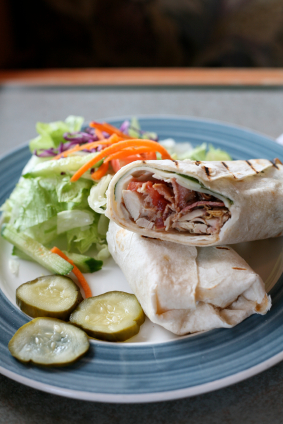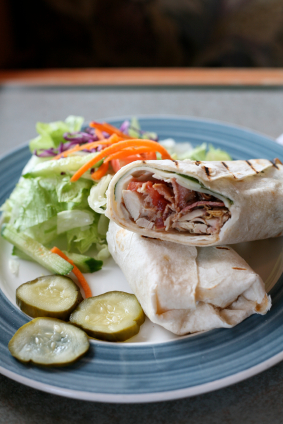 Chicken salad is an easy wrap!
I've found that almost every chicken salad recipe I have can be altered to be wrapped. A curry chutney chicken salad served over cantaloupe? Cube the c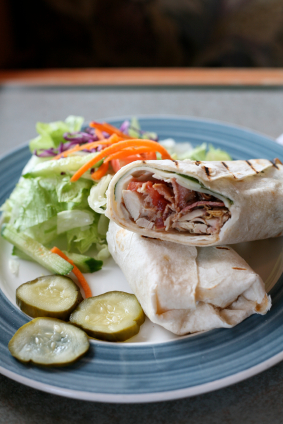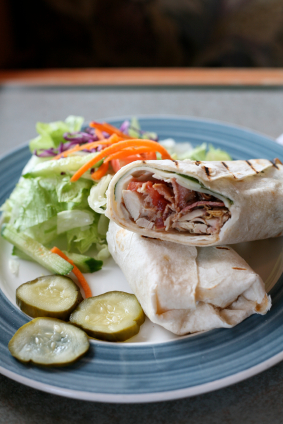 antaloupe, mix with the rest of the chicken salad and wrap. Traditional chicken salad served on a bed of lettuce? Tear the lettuce into bite-sized pieces, mix with the rest of the chicken salad and wrap. Chicken salad in pineapple boats? Cube even more of the pineapple and wrap. And so on.
Wraps can be warm or cold, of course, so don't forget your shredded barbeque chicken recipes. Add the complements in bite size form and wrap – then wrap in foil to keep warm.
I prepare most parts of the salad the night before baseball days – the chopping and the shredding and the dressing-making. Then I can quickly assemble the salad and the wraps and get them into the picnic bag while the boys change into their uniforms.
Of course, you don't have to wrap if you don't want to. Chicken salad is extremely portable in small individual serving-sized reclosable containers.
Recipes
Perfectly Poached Juicy Chicken Breast
Bring a 3 to 4 quart pot of water to a rolling boil. Carefully drop in two chicken breast halves, cover and remove from the heat. Let sit, covered, for fifteen minutes. Remove from the water and check for doneness. Let cool. Shred for chicken salad.
Occasionally, if there is still an edge of pink in the middle, you may need to microwave the chicken for a few moments, but I've had to do this only rarely.
If the chicken breast halves are particularly large, or if you are trying to poach more than two halves, you can let boil for a few minutes before covering and removing from the heat.
Asian Mandarin Chicken Salad Wraps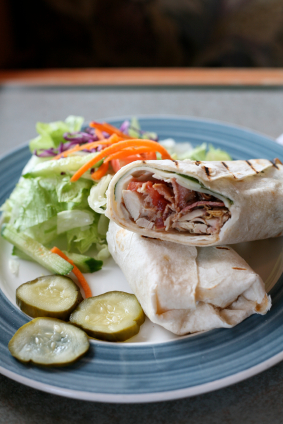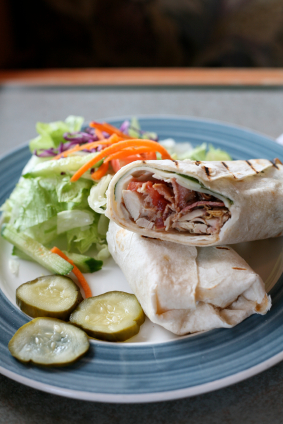 1-2 cups cooked shredded chicken breast 1 bag pre-washed salad (I prefer spring mix if eating right away, and a romaine/iceberg blend if the salad will be sitting at all) 1 can mandarin oranges, drained 1 avocado, cubed (optional) 2-3 scallions, chopped Asian sesame salad dressing to taste – whatever store bought variety you prefer Tortillas/wraps Crispy chow mein noodles
Combine chicken, salad, mandarin oranges, avocado, scallions, and dressing and toss well.
Place some of this mix in a tortilla or wrap, sprinkle on some crispy chow mein noodles and finish wrapping.
Curry Chutney Chicken Salad
3/4 cup plain yogurt 1/4 cup mayonnaise 3 tablespoons Major Grey chutney (bit chopped if necessary) 1 teaspoon curry powder 1/8 to 1/4 teaspoon cayenne and salt to taste 1 cup red seedless grapes, rinsed, drained, halved 3 cups shredded or cubed cooked chicken 1 cup thinly sliced celery 1/2 cup thinly sliced green onions (white and green parts) 1 firm-ripe cantaloupe 1/2 cup roughly chopped, salted roasted pistachios 1/4 cup chopped fresh mint leaves Combine yogurt, mayonnaise, chutney, curry powder, salt and pepper. Set aside. Mix grapes, chicken, celery, green onions and curry-chutney dressing in a bowl. Cut melon into six wedges, scooping out and discarding seeds. Divide dressed chicken salad among the melon wedges. Sprinkle with pistachios and mint.