Foods in fashion: Cupcakes!
I know I'm a little late to the party here, but I've recently been converted to cupcake love.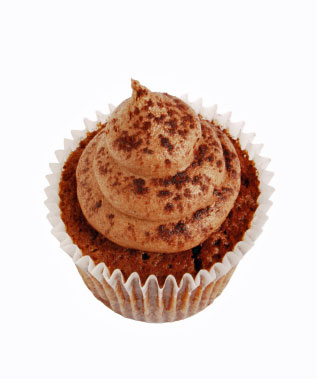 Yes, there have been articles in major newspapers and major magazines about trends towards elaborately flavored and decorated cupcakes, but I haven't taken it to heart. I noted photo spreads on Magnolia Bakery in New York and others around the country. I giggled at the Johnny Cupcakes line of t-shirts. But I wasn't enamored with these tasty desserts until now.
Discovering cupcakes
Maybe it was because we didn't have any bakeries close by that made elaborate cupcakes. Maybe it was because I've already been through my cake decorating kick and had no interest in getting elaborate in the kitchen because I'm on some other culinary kick. Whatever the reason, I rather ignored the cupcake trend and focused on other dessert recipes.
A few weeks ago, I went into a bakery recently opened by the mother of one of my son's friends. I ordered cupcakes for my daughter's birthday party – not because of the big cupcake trend, but because I could order regular sized cupcakes and mini cupcakes for the party, and (hopefully) satisfy four-year-olds and grownups alike with appropriate portions. (Interestingly, the mini red velvet cupcakes with cream cheese frosting were the hit among the toddler attendees.) While ordering, I spied an interesting looking cupcake in the case. It was a cannoli cupcake. In an instant, before I even tasted it, I was converted. At that moment, I started to adore cupcakes.
Cupcake decadance
After ordering the party cupcakes (including a filled lemon cupcake), I asked for just one cannoli cupcake. It was a yellow cupcake with the top sliced off and some of the inside scooped out. In that cavity was piped mascarpone cannoli filling. The top was replaced and then piped high with buttercream frosting and sprinkled with mini chocolate chips.
Heaven, in a little paper wrapper.
I intended to eat it slowly, savor it over the course of the day. Oh, no. No, no, no. I inhaled it in about a minute in my car in the parking lot. And I'd do it again.
Since that day, I've been thinking about cupcakes: flavors and colors and decorations. And, as it's spring, I'm thinking lime curd filled cupcakes with lime buttercream could be heaven. Here is my cupcake dessert idea.
Lime Filled Cupcakes
24 yellow cupcakes, baked according to package instructions or from scratch Lime curd, store bought or from scratch. Lime buttercream (I might also try a standard buttercream recipe with Boyajian Lime Oil added) Green or clear (or any other color really) coarse sugar crystals.
For each cupcake, carefully slice off the top of the cupcake with a bread knife. Scoop a small amount of cake out of the remaining cupcake. Spoon lime curd into the cavity, but be careful not to overfill. Replace the top of the cupcake. The curd should help it stay in place.
Using a cake decorating bag with a large star tip, pipe the frosting onto the top of the cupcake. How high you go is up to you. Dust the top of the cupcakes with the coarse colored sugar (color of your choice).