Meal planning: Mandarin orange chicken, shrimp California rolls and more
All our meals fell into place last week, so we're starting with a fresh meal plan this week. Dinner recipes are included below for meals marked with an asterisk.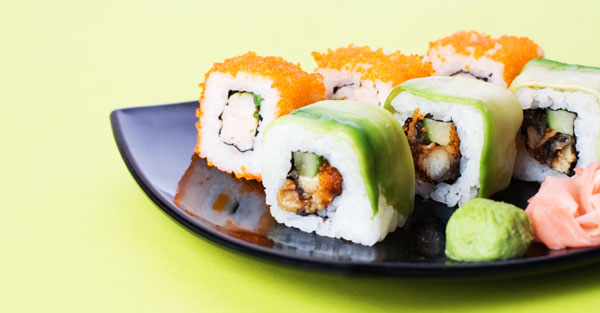 Sunday: Pasta with Sausage and Spinach, birthday cake Sunday is Sunshine's fourth birthday, so she gets to pick the meal. The girl loves pasta, so she chose pasta with sausage and spinach. For her birthday cake, blueberries are the fruit of choice. Monday: Balkan Prosciutto Soup*, salad My husband will be cooking this night, and this soup is an easy and quick favorite. Sometimes the kids balk at the spinach, so we ladle out their portions before adding it in. Tuesday: Mandarin Orange Chicken, rice and salad The frozen Mandarin Orange Chicken from Trader Joe's is a favorite fast meal solution for us. I have some women coming to the house tonight, so I need to feed the kids fast, fast, fast. While I don't like to serve meals in this manner too often, every once in a while is fine. Balance and all. Wednesday: Leftovers or quesadillas for the kids, homemade shrimp California rolls* for the parents. Our typical Wednesday evening when the kids need to eat first and the grownups will eat later. Nothing beats fresh California rolls. We have a simple sushi rice recipe. Thursday: Chicken soup (probably canned), salad, bread My husband can't eat much this night due to an appointment the next day. We'll join him by eating lighter fare too. Family solidarity! Friday: Caramelized Carrot Risotto, salad We like risotto in general and this recipe looks really good. Saturday: I'm not cooking! We'll eat at a relative's home for a nephew's birthday.
Balkan Prosciutto Soup
1 tbsp butter 2 large shallots, chopped 1 large can (49 1/2 oz) reduced-sodium, low-fat chicken broth 1/2 tsp pepper 1/4 tsp nutmeg 1 c orzo pasta 4 cups spinach, washed, dried, and picked over 2 oz prosciutto, cut into thin slices 1 c sour cream (low-fat is fine) Saute the shallots in butter in a 5 to 6 quart pan over medium heat until shallots are soft, about 5 minutes. Add the broth, pepper and nutmeg and bring to a boil. Reduce heat and add the orzo. Simmer uncovered until the orzo is tender, 8 to 9 minutes. Add spinach and prosciutto, and simmer until spinach is wilted, about 5 minutes. Remove from heat and stir in the sour cream. Alternately, after the orzo is soft, turn the burner very low and add the prosciutto and sour cream. Serve to those not as thrilled with the spinach element, then return the soup to the low burner and add the spinach, stirring and simmering until wilted.
Shrimp California Rolls
The beauty of this recipe is that it can be scaled up or down depending on how hungry you are or how many people you want to serve. Sushi rice (we usually make a 1/2 recipe for the two of us) Nori Cooked, shelled and deveined shrimp cucumber, julienned avocado, julienned carrot, julienned soy sauce wasabi pickled ginger Rolling California rolls is a little tricky, and takes a little practice. Fortunately, the result is just as tasty whether the final rolls look perfect or not. There are several websites with instructions, for example, here. My general procedure is as follows:
Lay out a bamboo sushi mat, and a piece of nori on it.
Mush some sushi rice onto about 2/3 of it.
In the middle of the rice, lay lines of shrimp, cucumber, avocado and carrot.
Carefully, using the mat, roll up the whole thing.
Slice carefully. Those ends that aren't so even are perfect for mid-preparation snacking.
Serve immediately with soy sauce, wasabi and pickled ginger.