Breakfast: The most important meal of the day
We all know breakfast is the healthiest meal of the day, so why do so many kids reject the concept? Jen Klein offers up some ideas for motivating a desire for breakfast, including a delicious puffed apple pancake recipe!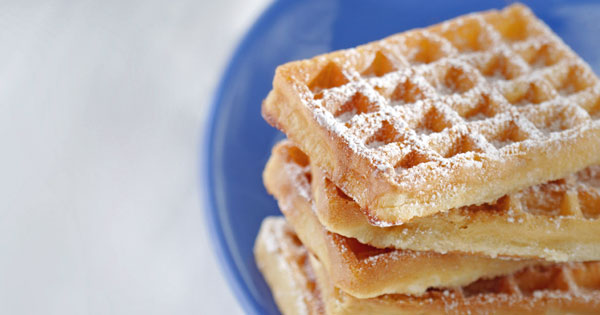 A healthier habit
I was never much of a breakfast person. Even from a young age, I often didn't feel hungry in the morning and refused anything but juice before school. This was the source of many "disagreements" between my parents and me. Eventually, around high school, they gave up.
Finally, as an adult I learned the importance of breakfast. Pregnancy is what did it for me. When I was pregnant with my oldest, I could not get through the mornings without eating and the healthier habit continued after he was born. I noticed that my mornings were more productive and I snacked less when I ate breakfast. In other words, my mom was right. (I bet she'll frame this.)
Mom's breakfast diner
As a mother I do not let my kids go out the door without something in their bellies. While I may proclaim that this kitchen is not "Mom's Diner" with a menu and I am not a short-order cook, the rule is that if we have it in the house, they can have it for breakfast. I'll make one eggs and another oatmeal and the third a bagel if that is what it takes to get the food into them. (If they really want Nutella on their toast, I'll insist they have a piece with cream cheese or fruit spread first.) On special days, if there's big test or something, I might even make French toast. On birthdays, the birthday child gets his or her choice of breakfast – usually something sweet.
On weekends we make more involved breakfasts. It's one of our favorite things to do, and the kids get involved with the breakfast ideas too. Pancakes and waffles, biscuits and scones, omelets and muffins. A rare treat is a puffed oven-baked apple pancake. Alfs likes to make pancakes and waffles without help (he adds chocolate chips to the waffles), and Woody will often ask to make a fruit smoothie to go along with the main dish.
When we make pancakes, waffles, muffins and biscuits, we make at least a double batch. In the case of the pancakes, waffles and muffins, we freeze any extras for weekday breakfasts. If you freeze them individually (as singles on parchment paper on a cookie sheet) and then put them in Ziploc bags, you can thaw and heat or toast them quickly and easily – and you may never buy commercial frozen waffles again. With extra biscuits, we cook up some scrambled eggs and bacon a few hours later and – voila! – lunch.
Puffed Apple Pancake
4 apples, peeled, cored and thinly sliced juice of half a lemon 6 eggs 1 1/2 c milk 1 tsp vanilla 1 c flour 2 tbsp granulated sugar 1/2 tsp salt 1/2 tsp cinnamon pinch of nutmeg 4 tbsp unsalted butter 1 tbsp brown sugar powdered sugar Preheat oven to 425 degrees. Slice apples and squeeze lemon juice over them. Set aside. Combine eggs, milk and vanilla. Mix well. Add flour, granulated sugar, salt, cinnamon, and nutmeg and combine well. Set aside. In a wide oven-proof skillet, melt the butter. When the butter is sizzling, add the apples and brown sugar and saute for several minutes, until the apples begin to caramelize and soften. Pour batter over apples, and place the skillet in the oven. Bake until puffed and golden, about 20 minutes. The pancake will puff in the last 5 minutes of baking.
Remove the skillet from the oven very, very carefully. It's hot! Let the pancake cool for a few minutes, then dust with powdered sugar, cut into wedges and serve.