Meal planning: Google Calendar
So lately I've been using the Google Calendar application for meal planning and you know what? It kicks butt! In fact, my husband and I use the Google Calendar application exclusively for planning everything.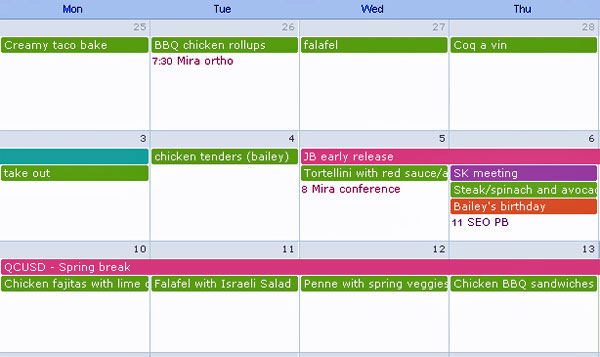 We each have our own calendars, we have a joint calendar, we have a calendar for the kids, plus we have the menu planning calendar. Everything is color coded and set up so we both have access - and they all overlay each other so we can see everything that's going on at a glance. I can access/update the calendar via my iPhone browser, but of course I mostly maintain it from where I sit most of the day, everyday: My computer.
Don't ask me what's for dinner
One thing I particularly like about this approach is that hubby can look at the calendar and see what's for dinner. If there's nothing on the calendar... dude. Then there is nothing planned. He would be wise when observing this phenomenon to NOT ask that dreaded "what's for dinner" question. Heck, he can even feel free to suggest some dinner ideas and do all the work. Another thing I like is that as I'm inspired, I can add a meal idea to the calendar and paste a link to the recipe in the notes section of that entry to reference, research or print later. If I change my mind about the order of things, I can drag and drop the entry to another day.
My menu plan (Try not to drool on your keyboard!)
So here's our plan for the upcoming week and weekend. Feel free to share your plans via comments, so I can be inspired. Friday: Goat Cheese and Walnut Souffle and salad My family loves this including the kids! I make the salad with butter lettuce instead of the frisee and watercress mainly because I always have some in the fridge. ;-) Saturday: Mesa Chili with cornbread. (Recipe below.) It's normal chili with ground beef and chopped onion and tomato sauce/crushed tomatoes, but instead of kidney beans, we use white beans. Also a nutmeg/cumin/chili powder spice blend makes this unique and interesting. The chili recipe is adapted from the Chandler Chili recipe in the Best of the Best from Arizona Cookbook. Sunday: Coq au Vin It's a lot like beef burgundy, except with chicken instead. This especially easy recipe caught my eye in latest Cookie Magazine. Monday: Asparagus risotto, salad, browned butter rice crispie treats Thanks to my fellow ChefMom columnist, Jen! Tuesday: Vegetarian Cassoulet Wednesday: Taco salad Thanks again to Jen for the idea! Thursday: Migas I've never made these before. I saw a recipe on the back of a corn tortilla package and thought... yum. Friday: Probably dinner out or takeout. I like a break every once in awhile. Saturday: Chicken fajitas with crunchy lime cabbage and avocado We had this recently with orange slices, chips and guacamole (I cheat with wholly quacamole) on the side and it was a hit!
Mesa Chili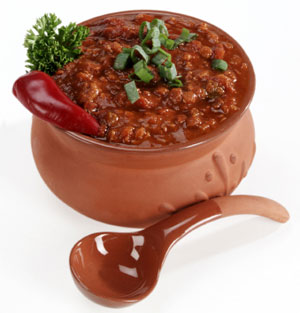 Ingredients 1 large onion, chopped 2 cloves garlic, minced 3 tablespoons olive oil 1 pound lean ground beef 1/2 teaspoon ground oregano 1/2 teaspoon ground cumin 1/2 teaspoon ground nutmeg 2 tablespooons red chili powder 2 cups crushed tomatoes 1 14.5 oz can cannellini beans (white beans), drained and rinsed 1 tablespoon chopped parsley 1 cup water Directions Saute onion and garlic in olive oil in large pot or dutch oven until onion is soft. Stir in ground meat and brown it. Add oregano, cumin, nutmeg, chili powder, tomatoes, beans, parsley and water. Cook for two hours over low heat, adding more water as necessary. Serves 4-6.