Blackberry milkshake
Creamy, fruity and unique! A fun dessert or a snack for kids. You can make this smoothie recipe as directed, or make it a more healthy recipe by adding some protein powder or brewer's yeast. The kids won't even notice it's in there, but it offers a nice nutritional boost! Don't like blackberries? Substitute the fruit of your choice.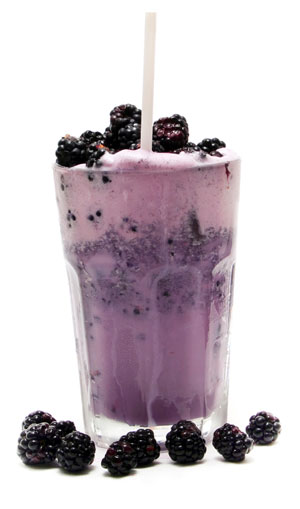 Blackberry Milkshake
Ingredients 1 cup blackberries, washed and frozen 2 tablespoons sugar or sweetener 1-1/2 cups vanilla ice cream or frozen yogurt (4 scoops) 1/2 cup milk Directions Place the blackberries and sugar or sweetener in a blender and puree until smooth. You can skip the freezing step and add a few ice cubes in the blender before you puree. Add ice cream or frozen yogurt and milk. Blend until smooth. Serves 2.