Vegetarian adventure: Fun with pasta
I love pasta, but I don't usually have a lot of variations - most of my creations are some combination of noodles, ground beef, red sauce and cheese. Sometimes I'll get crazy and alfredo it up. I'm a busy working mom and I love to cook, but I just don't have enough time or energy to play in the kitchen. Besides, my family is picky and they don't want to try new dinner recipes. Isn't that lame? Because, really, there is no excuse!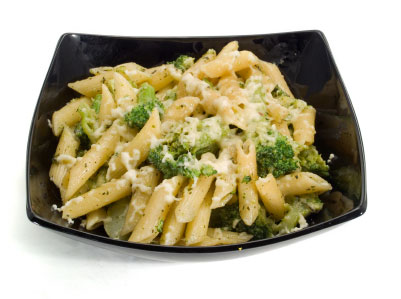 Going (somewhat) vegetarian has forced me out of my comfort zone with food and I'm finding it's incredibly fast and easy to discover new dinner recipes. We've had a couple flops, but we've also had some interesting successes. I've been impressed by how my family has taken to this vegetarian culinary adventure. This week so far we've tried two new pasta recipes.
Garlicky white beans, sage and orecchiette
This recipe would have been a direct hit, but I screwed it up a little. Because I was cooking for the WHOLE family (which includes three girls ages 8-12, one 15-year-old boy, one hungry daddy and one always-ravenous nursing mama), I made TWO packages of the orecchiette. That was all well and good, but I only doubled the bean mixture portion of the recipe and I probably should have tripled it. The mixture didn't quite stretch where it needed to. With that said, however, the beans had a wonderful flavor and everyone enjoyed this dinner recipe! It was fast, unusual and filling. As a bonus, it's a "pantry recipe," meaning that you can have no idea what the heck you're going to have for dinner tonight and make the decision to have this recipe 30 minutes before dinnertime without an emergency grocery store run. (Don't have orecchiette? Use whatever pasta you DO have. Don't have fresh sage on hand? Dried is fine.) By the way, when cooking this up, the aroma was divine. I love vegetarian recipes that start off with garlic and herbs sauteed in olive oil. Add the white wine and a simple beans-and-noodles dish goes gourmet. The funny thing is, this meal was as fast and simple as making hot dogs and Kraft macaroni and cheese, yet so much tastier and a million times healthier!
Kids in the kitchen: My 12-year-old drained and rinsed the canned beans, chopped the red and yellow peppers and set the table while I did the rest of the preparation.
Whole-wheat pasta with broccolini and feta
Wow. Just wow. This was another simple recipe, but the flavors - feta and orange vinaigrette - were so intense and complex. You can serve this vegetarian recipe up hot, room temperature or cold as a pasta salad. We had it warm and I loved the texture and flavor of the melted feta on the pasta. One slight variation I made... no shallots on hand, so I threw some thinly sliced sweet onion into the pot when I blanched the radish slices. I think a handful of pine nuts tossed in would work just as nicely. Let's talk about the radishes - I eat them VERY rarely; usually just a few raw slices in a salad mix. I'm surprised this recipe even appealed to me because of the radishes, but they had a wonderful mild flavor and tenderness when slightly blanched. Even the kids liked the radishes!
On the side: We had raw red pepper slices and orange segments (my husband peeled and segmented the orange I had used for the zest).
Family review: The verdict? Well, I loved it! My husband was skeptical, but decided he really liked this vegetarian recipe after a few bites - he took it to work the next day as a cold dish, too. My 12-year-old mostly liked it. I think the flavor overwhelmed her about halfway through, however. My 8-year-old LOVED it. My 10-year-old was completely not interested. She opted to reheat some leftovers for her dinner. Because of that, I probably won't make it frequently as a family meal where it is the primary course.